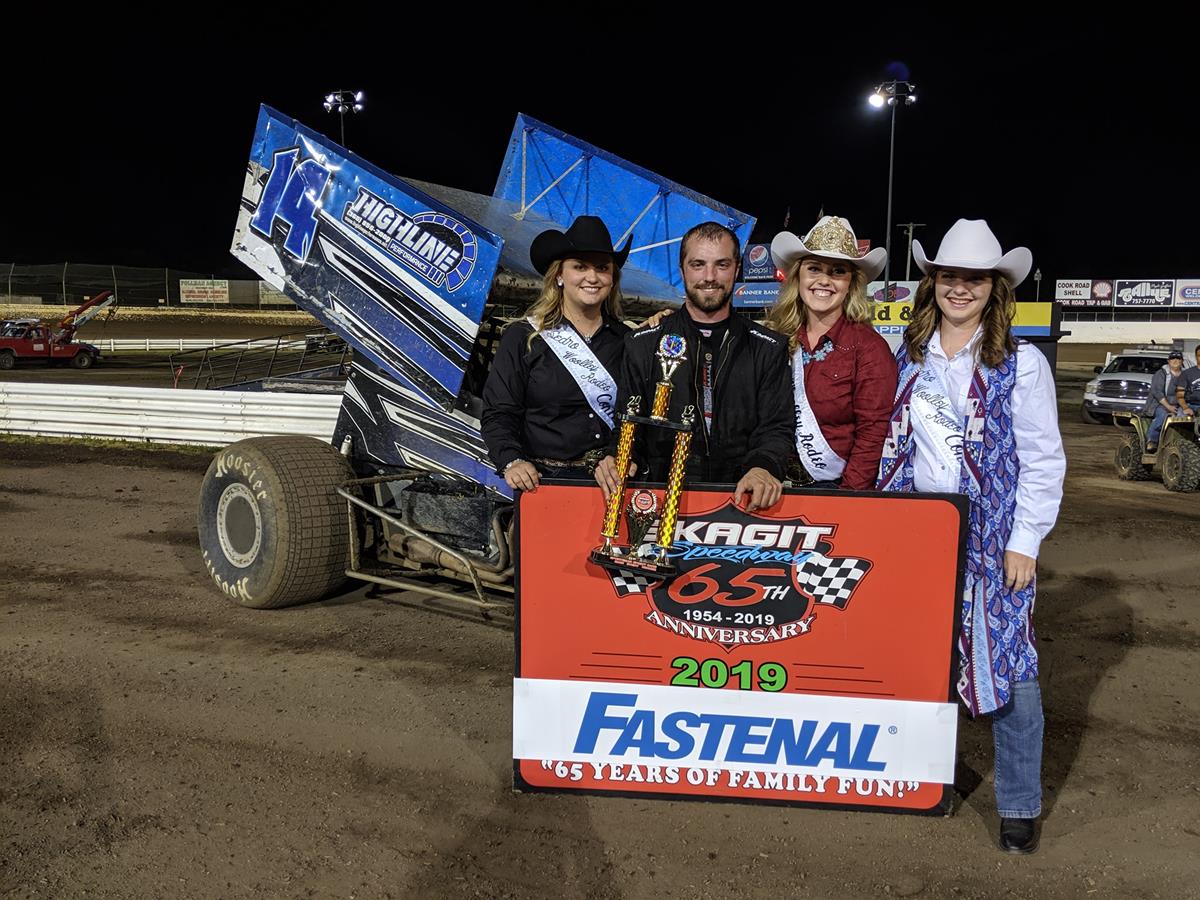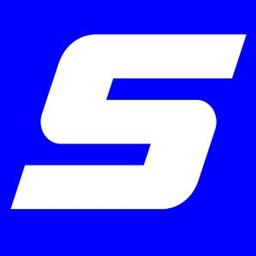 ---
Johnson Tops at Skagit Speedway
Alger, WA - A wild Cook Road Shell Sportsman Sprint main event saw Sean Johnson win his second feature of the season on a hot night at Skagit Speedway. Fastenal and Janicki Industries sponsored racing action on the evening.
Johnson was the third and final leader of the A Feature for the Sportsman Sprints. Michael Bollinger took the lead on lap six after driving past Steve Parker and was crusing before slower traffic became a massive factor in the late stages of the race. Johnson swept past Bollinger on the 22nd lap, but was in danger of losing the lead as the white flag flew, as Michael had a massive run building on the outside of the speedway heading into turn one. Nearly side by side at the exit of turn two, Bollinger and Johnson made contact as the zoomed down the back straight, sending Michael on a wicked flip that ended his night. The ensuing restart found Kelsey Carpenter threatening Johnson before a John Tharp spin reset the field for a gree-white-checkered finish, part two. Carpenter gave Johnson another strong run, but Sean held for his second win of the year, followed by Kelsey and Parker. Bollinger and Trevor Cook were the heat winners, with Travis Jacobson setting fast time.
Extra money was on the line through the field with the Northwest Modified Challenge. Like many times before, it was Kevin Smith earning the win in the main event, leading laps 7-25 in front of his brother Rick Smith and Craig Moore. Rick and Kevin were also the heat race winners.
The AMCA Dwarf series made its first appearance at Skagit Speedway. Jake Tupper was the class of the field in the main event, quickly advancing from his eighth place starting spot to take the lead from Brian Lee on lap 3 on his way to victory lane. Jimmy Brinster and Lee rounded out the podium with Lee and Tupper winning the heats.
Lapped traffic made things chaotic at the finish, but it was newlywed Kyle Hanson leading all 17 laps to score a win for his new bride Leah in the Outlaw Tuner class. In his first Skagit Speedway appearance, Tanner Emery was second with Vance Hibbard running third. Heat race wins went to Hibbard and Brian Michelson.
Cook Road Shell Sportsman Sprints
Cooks General Contracting Fast Time - Travis Jacobson 12.484
Heat 1 - Michael Bollinger, Kelsey Carpenter, Cory Swatzina, Eric Turner, Bill Rude, Ashleigh Johnson, Paul Hopkins, Travis Jacobson, Jake Helsel
Heat 2 - Trevor Cook, Jayme Barnes, Sean Johnson, John Tharp, Steve Parker, Cody Ridge, Malachi Gemmer, Seth Askvig
Main - Sean Johnson, Carpenter, Parker, Cook, Swatzina, Turner, A Johnson, Rude, Gemmer, Jacobson, Bollinger, Askvig, Hopkins, Ridge, Barnes, Tharp (DQ - Unsportsmanlike Conduct)
Lap Leaders - Parker 1-5 Bollinger 6-21 S Johnson 22-26
Northwest Modified Challenge
Heat 1 - Rick Smith, Jeff Blanton, Craig Moore, Mike Steltz, Tyson Blood, Pat Merritt, Larry Buchanon
Heat 2 - Kevin Smith, Roger Drake, Adam Holtrop, Jeff Jansma, Mel Decker, Louis Nutter Sr, Dan Butenschoen
Main - Kevin Smith, R Smith, Moore, Steltz, Blood, Jansma, Buchanon, Decker, Butenschoen, Nutter, Holtrop, Blanton, Merritt, Drake
Lap Leaders - Holtrop 1-2 Blanton 3-6 K Smith 7-25
AMCA Dwarf Cars
Heat 1 - Brian Lee, Troy Kunas, Danny Karslake, Rich Brewer, Cole Logan
Heat 2 - Jake Tupper, Jimmy Brinster, Rick Taylor, Dan Scott, Steve Taylor
Main - Jake Tupper, Brinster, Lee, Kunas, R Taylor, Karslake, Logan, Brewer, Scott, S Taylor
Lap Leaders - Karslake 1 Lee 2 Tupper 3-20
Outlaw Tuners
Heat 1 - Brian MIcheson, Kyle Hanson, Howard Vos, Clint Meins, Ken Schukar, Colin Sims, Rob Dozark, Mike Thomas
Heat 2 - Vance Hibbard, Brandon Sager, Tanner Emery, Kyle Schukar, Randy Moffat, Leah Hanson
Main - Kyle Hanson, Emery, HIbbard, Michelson, Vos, Ky Schukar, Dozark, Sager, Ke Schukar, Meins, Moffat, Jon Edwards, L Hanson, Thomas, Sims
Lap Leaders - K Hanson 1-17
Back to News