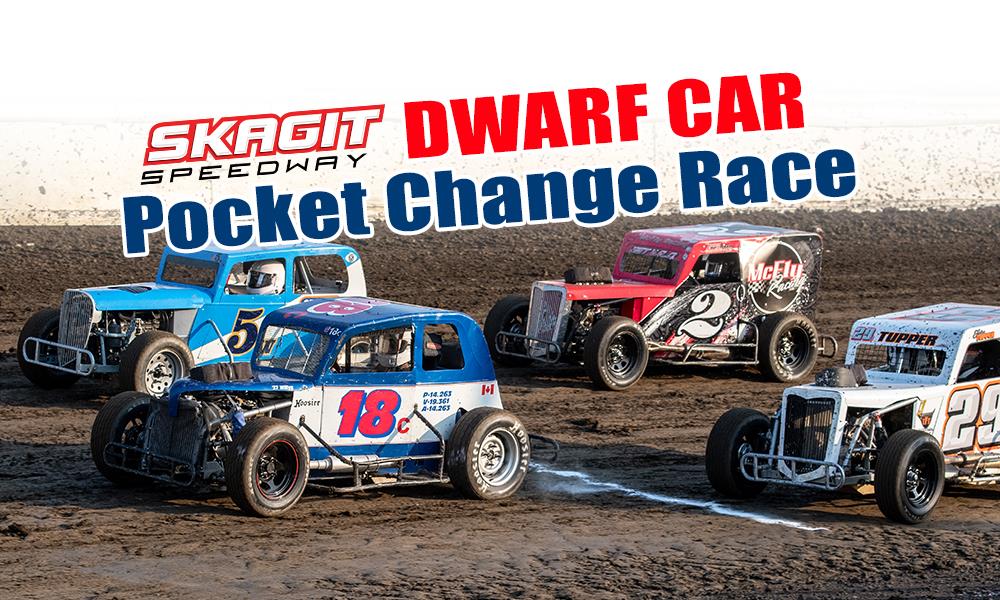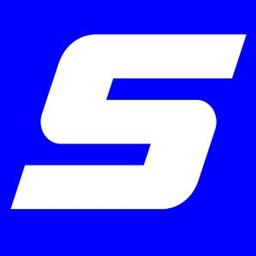 ---
Skagit Speedway to host Dwarf Car Pocket Change Race August 1
A new tradition will begin in 2020, the Pocket Change Race will have a new home. Skagit Speedway will host the popular dwarf car event for the first time on Saturday, August 1st. The event will be sanctioned by the AMCA Bandit Dwarfs, with support from the Northwest Dwarf Car Association.
The Pocket Change Race is a fan and community-driven event, as coins and other cash are collected year round and paid out as bonus money to the racers on top of the payout from the track and primary association, most unique in that the main event winner gets paid in coins - all of the coins collected and counted during the year. The winner is presented a small glass jar full of coins as a trophy on the front stretch and gets the rest of it in the pit area afterwards. Dwarf car purses are usually modest in size, with the Pocket Change Race reaching four digits to win in recent years, the unique prize has become one of the most sought after in dwarf car racing.
The AMCA Bandit Dwarfs spearheaded the return of dwarf cars to Skagit Speedway in 2019 after a five-year absence. St. Helens, Oregon driver Jake Tupper won in his first trip to Skagit Speedway and immediately fell in love with the track, and called for more dwarf car races at Skagit in the future and for more of his fellow racers from the Portland area to come with him. The quickly growing AMCA series, which races on dirt and asphalt tracks around the Northwest and British Columbia, will be joined by the Northwest Dwarf Car Association, based out of the Portland area and running all dirt. It will be a points race for both groups. Both AMCA and Northwest have been among the groups participating in the Pocket Change Race in past years.
The driving force behind the Pocket Change Race is longtime traveling sprint car and midget writer, announcer and general enthusiast Andrew Kunas, who now works primarily with the Northwest Focus Midget Series and has always called Skagit Speedway his home track. Andrew first got involved with the dwarf cars after his father Troy Kunas, who is now the president and promoter of AMCA, began racing in 2006. Though still attending mostly sprint car and midget events around the Northwest and beyond, Andrew put his first Pocket Change Race together in 2010 and in recent years has worked to make the event special for his "Dwarf Car Posse." After discussions with others and consideration of all things in recent months, Andrew felt a change was in order for 2020.
"Skagit Speedway has been my home track from Day 1. A lot of my earliest memories are from that place. Sprint cars and midgets are my first love as everyone knows, but the Pocket Change Race for my dwarf car guys is my baby. To have this event that I work hard to sponsor and organize be at Skagit is special to me, and it means a lot that Steve Beitler and his staff are excited to host. It's great to have my dad and AMCA directly involved along with the guys from Northwest Dwarfs too. I want the other dwarf car racers out there to know they are welcomed to come race with us at a great place. I have a lot of friends with both groups and at this race track," said Andrew, who made clear that he gets a lot of help from the community in putting on the event.
"It's become a community effort. The really cool thing about this race is that anyone can throw in a few coins for the winner or few dollars in cash to go to another driver and they get to say they helped sponsor a car race and help some racers out," Andrew said. "So many people from fans to crew members and officials, to friends and co-workers - you name it - have chipped in to help give the dwarf cars in the Northwest their special and unique event. Paying several additional finishing positions, pushing the regular pay scale back as far as possible, paying hard charger bonuses, long tow bonuses, other things. I've had a supporter even give a bottle of booze to the last place finisher the past few years."
Excitement is already high from the groups already confirmed to be participating. "AMCA is excited to be a part of bringing a special event to a great and historic race track, and we're happy to have our partners in the Northwest Dwarf Cars with us," said Troy Kunas, who was the overall AMCA grand champion in 2019 in addition to winning the pavement title. Brian Lee of British Columbia was the 2019 AMCA Dirt Series champion and finished third in the AMCA event at Skagit last year.
"We had our meeting and we voted to make it a points race for Northwest! Our members are all in and excited!" said Northwest Dwarf Car Association president James Brinster, who is also a former champion with that series and finished second behind Tupper in last year's AMCA event at Skagit. Scappoose, Ore. driver Jake Van Ortwick, who has twice been on the podium in past Pocket Change Race main events, won the Northwest Dwarf Car title in 2019.
Darren Brown of El Cajon, California won last year's Pocket Change Race and took home a race record $2,227 in change that was collected over the past year. Including the coins, the special payout from Andrew Kunas topped $5,300. Despite the move to another venue for his race, he looks to continue growing the event and get the fan-base at Skagit Speedway involved. Andrew will be at Skagit Speedway several times with the Northwest Focus Midget Series during the season and will be available for questions regarding the event, and can be contacted via the Pocket Change Race Facebook page as well.
As the season moves along and the event approaches, the special payout from Andrew Kunas for the Pocket Change Race will be updated as change and cash is collected. With the change collection for the winner always going well, the focus again will be on collecting additional cash to pay as many other drivers as possible.
On August 1st, the AMCA Bandit and NW Dwarf Cars will be joined by the Sportsman Sprint cars, Modifieds and Outlaw Tuners. It also the popular Candy Scramble and Backback Night at Skagit Speedway.
Past Pocket Change Race winners
2010 - Dave Cantu
2011 - Dave Cantu
2014 - Corey Esteban
2015 - Ryan Martinez
2016 - Corey Esteban
2017 - Ryan Martinez
2018 - Johnathon Henry
2019 - Darren Brown
Back to News