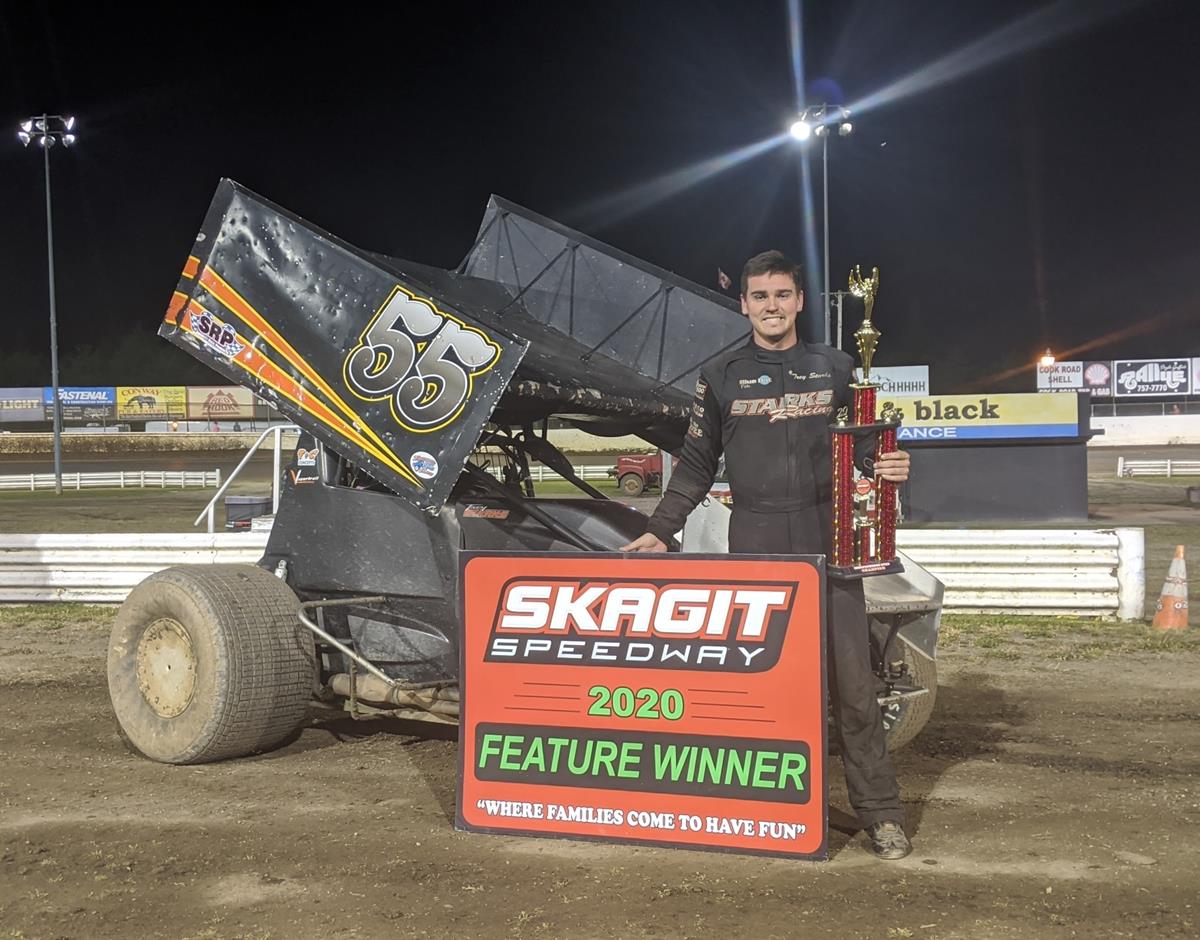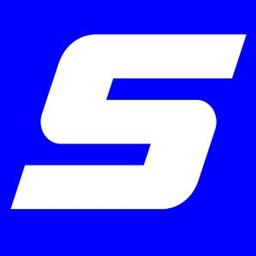 ---
Starks Scores Skagit Speedway Win
Alger, WA - The largest field of the year was on hand for week six of Skagit Speedway TV as 65 cars signed into the pit area for the Independence Open. Originally scheduled for July 2nd, the $2,100 to prize in the Budweiser 360 Sprint Cars ended up going to Trey Starks, while the $1,300 winner's check for the Skagit Aggregate Modifieds went home to Oregon with Bricen James. Adam Holtrop became the first repeat winner of the year in the Outlaw Tuners.
Starks came from third on the opening lap to take the lead, as the bottom groove opened up through the middle of the first turns, giving him a lane to drive into the top spot on the back straight despite a close call with Jason Solwold. While the battle raged behind him for second, Starks was dominant all race long, only seeing his lead shrink to under eight car lengths while in the heaviest of traffic. He went on to lead all 25 laps, ahead of Solwold and Greg Hamilton who filled out the podium.
Plagued with caution flags, the main event for the Modifieds was entertaining in bursts, as Devan West and, Tyson Blood, Bricen James and Zach Simpson all warred in the top four. West led the first nine laps before James made the top side work for him, taking the lead on lap ten. James managed to keep a decent distance between himself and the field despite 10 yellow flags during the main, while Blood and Simpson ended up in second and third.
A mid race yellow flag helped Adam Holtrop become the second repeat winner of the year in the Outlaw Tuners. After challenging for the race lead early, Holtrop dropped back after a lap six yellow and was running third, before a lap nine yellow gave him a chance to regroup. On the ensuing restart, Holtrop found room to run under Jon Gunderson and would pass him for the lead in turn two, then led the rest of the way for the win. Gunderson ran a comfortable second with Kyle Hanson coming in third.
Budweiser 360 Sprints
Fast Time - Colton Heath 11.334
Heat 1 - Colton Heath
Heat 2 - Chance Crum
Heat 3 - Eric Fisher
Heat 4 - Brock Lemley
B Main - Devon Borden, Garen Linder, Ashleigh Johnson, Jeff Dunlap, Michael Millard, Bailey Sucich, James Bundy, Corey Summers, Eric Rockl, Steve James
A Main - Trey Starks, Jason Solwold, Greg Hamilton, Corbyn Fauver, Chase Goetz, Colton Heath, Travis Jacobson, Devon Borden, Colby Thornhill, Brock Lemley, Cam Smith, Tyler Thompson, Eric Fisher, Chance Crum, Tanner Holmes, Chris Bullock, Garen Linder, Reece Goetz
Lap Leaders - Starks 1-25
Hard Charger - C Goetz +11
Skagit Aggregates Modifieds
Heat 1 - Craig Moore
Heat 2 - Bricen James
Heat 3 - Tyson Blood
Heat 4 - Kenny Miller
B Main - Kevin Smith, Tyler Ketchum, Kyler Moore, Jeff Blanton, Charlie Severson, Brice Carter
A Main - Bricen James, Tyson Blood, Zach Simpson, Devan West, Kevin Smith, Brenton Schnitzer, Adam Holtrop, Brian Izzi, Mike Steltz, Tyler Ketchum, Rick Smith, Ben Gunderson, Kenny Miller, Jason Pestka, Jeff Jansma, Craig Moore, Sean Fox, Brian Harding
Lap Leaders - West 1-9 James 10-25
Hard Charger - K Smith +12
Outlaw Tuners
Heat 1 - Kyle Hanson
Heat 2 - Howard Vos
Main - Adam Holtrop, Jon Gunderson, Kyle Hanson, Rick Young, Howard Vos, Zach Dalrymple, Colin Sims, Cliff Ballenger, Tricia Michelson, Mike Macpherson, Jon Edwards, Chris Greene
Lap Leaders - Gunderson 1-9 Holtrop 10-17
---
Article Credit: Kaleb Hart
Submitted By: Social Media
Back to News