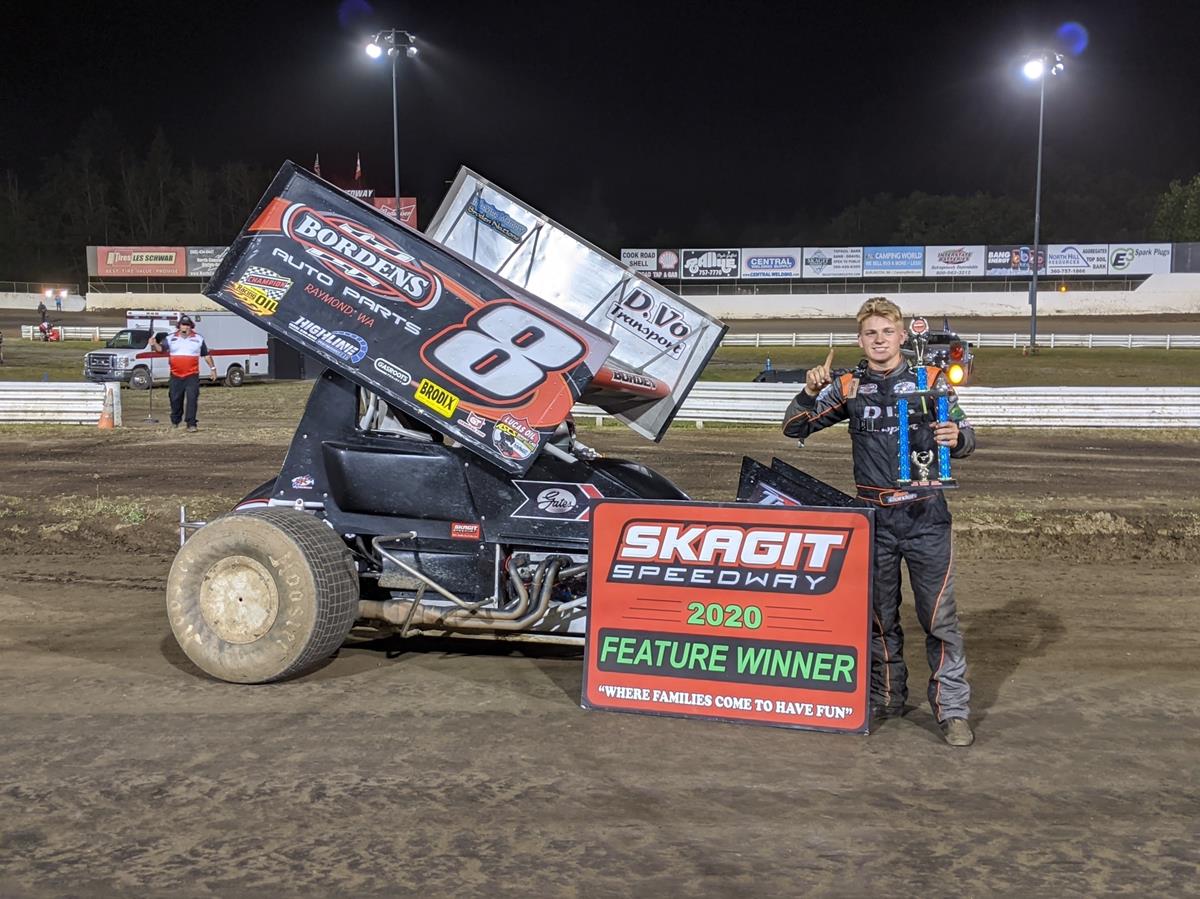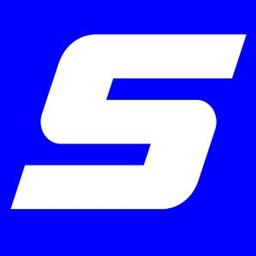 ---
Borden is First to Repeat at Skagit Speedway
7/30/20
Alger, WA - Despite a travel day to remember, Devon Borden put together an awesome night of racing in becoming the first repeat winner of 2020 in the Budweiser 360 Sprint Car action at Skagit Speedway on KPro Auto Night at the Races. The 7th week of Skagit Speedway TV also saw main event wins from Kelsey Carpenter and Jared Peterson.
Borden suffered through two automobile malfunctions on the way up to the track from his home in Raymond, WA. After tires blew out on his rig not once but twice, Devon leaned on a friend to hustle him through I-5 traffic and to Skagit Speedway just ten minutes before qualifying began. From the time he stepped into the car, the night improved massively as he'd set quick time and came from fourth to second in his heat race. Starting sixth on the main, Borden had his car moving from the get go, throwing slider after slider in working up to second and in behind leader Michael Millard. As Millard descended into traffic, Borden took his shot, using a short slide at the entrance of turn three to take the top spot as he crossed the transponder loop to complete lap nine. From there, Borden was untouchable, building a near half track advantage as he took the checkered flag. The race from second back was intense all race long, with Robbie Price advancing from seventh to take the runner up position, and Tyler Thompson earning a hard fought third.
Kelsey Carpenter collected his first feature win of 2020 by leading every lap of the Cook Road Shell Sportsman Sprints. Carpenter enjoyed a sizable lead for most of the contest before Jesse Schlotfeldt and Eric Turner closed late. While traffic made things intriguing, Kelsey fended off a big last lap attempt from Schlotfeldt and a rapidly closing Turner to take the win.
The NW Focus Midget main event went wire to wire without a stoppage in a 25 lap entertaining affair. Jared Peterson made a big swing into the lead on lap four and was untouchable the rest of the way in scoring the win in the Inlaws Racing #32. Shane Smith took second and was not challenged for that spot until late, when Nik Larson came up to threaten him after advancing from 11th.
Budweiser 360 Sprints
Fast Time - Devon Borden 11.827
Heat 1 - Robbie Price
Heat 2 - Greg Hamilton
Heat 3 - Colby Thornhill
Main - Devon Borden, Robbie Price, Tyler Thompson, Cam Smith, Greg Hamilton, Chance Crum, Chase Goetz, Colby Thornhill, Michael Millard, Ashleigh Johnson, Tyler Anderson, Jeff Dunlap, Chris Bullock, Bailey Sucich, Brian Boswell, Eric Rockl, Travis Jacobson, Corbyn Fauver
Lap Leaders - Millard 1-8 Borden 9-25
Hard Charger - Goetz +8
Cook Road Shell Sportsman Sprints
Fast Time - Sean Johnson 12.277
Heat 1 - Ashleigh Johnson
Heat 2 - John Tharp
Heat 3 - Brett McGhie
Main - Kelsey Carpenter, Jesse Schlotfeldt, Eric Turner, Sean Johnson, Bill Rude, Brett McGhie, Steve Parker, Cory Swatzina, John Tharp, Matt Loving, Gunnar Martin, Ashleigh Johnson, James Bundy, Kyle Hanson, Corey Summers
Lap Leaders - Carpenter 1-25
Hard Charger - McGhie +3
/
NW Focus Midgets
Heat 1 - Nick Evans
Heat 2 - Jared Peterson
Heat 3 - Guy Tow Jr
Main - Jared Peterson, Shane Smith, Nik Larson, Nick Evans, Guy Tow Jr, Michael Hodel, Alden Ostrom, Jake Austin, Ashley Thompson, Jesse Conway, Brian Holmkvist, Seth Hespe, Mike Stryker, Jesse Munn, Marty Rosler, Jake Munn, Ray Stebbins, Stuart Milner, Levi Harless
Lap Leaders - Smith 1-3 Peterson 4-25
Hard Charger - Larson +8
---
Article Credit: Kaleb Hart
Back to News