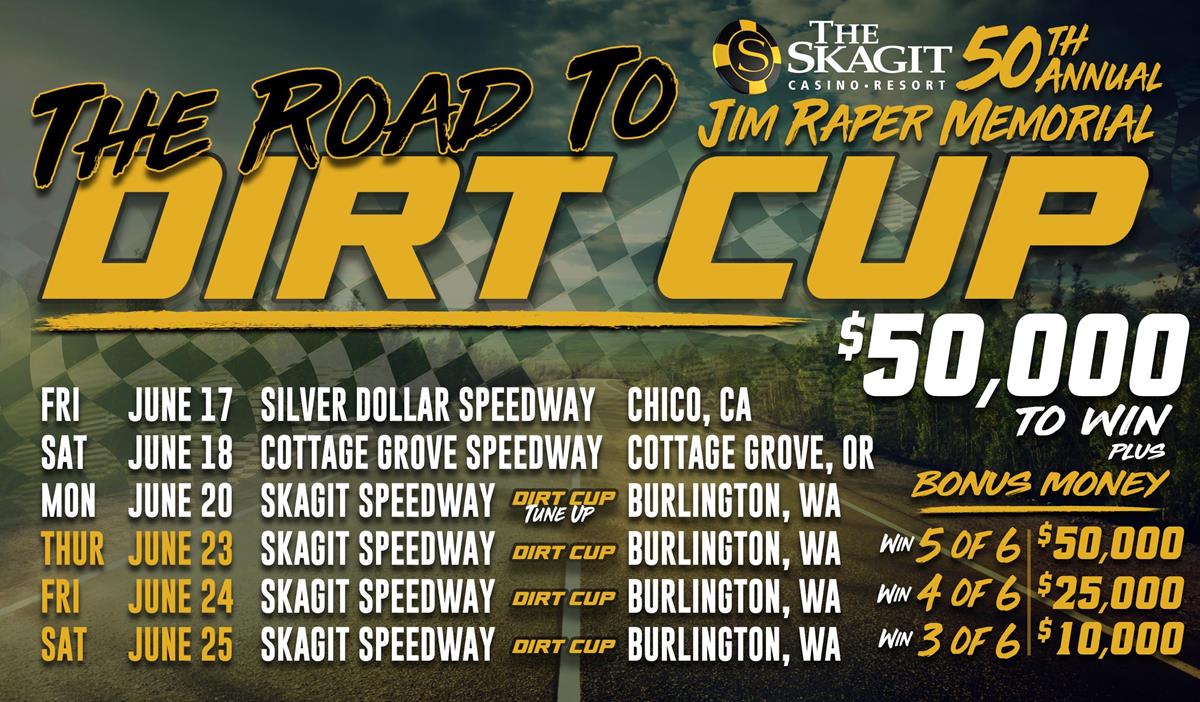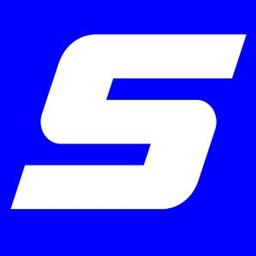 ---
THE ROAD TO DIRTCUP
50th Annual Jim Raper Memorial Dirt Cup
Presented by The Skagit Casino Resort
June 23-24-25
The Road to Dirt Cup! We have an extra $50,000 bonus on the line for whoever can win 5 of the 6 nights! Not to worry, if you can only win 4 of the 6 you get $25,000 or 3 of the 6 you get $10,000.
The Road to Dirt Cup kicks off at Silver Dollar Speedway in Chico, Ca on Friday, June 17th. Saturday the party heads north in to Oregon for a fabulous return of 410 Sprint Cars to Cottage Grove Speedway?. Sunday could be a day of rest.. or the drivers could swap cars or motors and run at Grays Harbor Raceway for the Hall of Fame Tribute 360 Battle Royal (not included in the road to dirt cup)
Monday... it starts! Dirt Cup Tune-up gets the week started here, gates open at 5:00pm. Dirt Cup week is going to be epic! We have something planned every night! We are excited to welcome the NARK King of the West to Skagit Speedway, as well as any other 410 or 360 teams who join us for Dirt Cup! (see below for rules)
Monday - Dirt Cup Tune-up
Tuesday - Fan Party at Railroad Pub and Pizza?
Wednesday - Fan Party at Skagit Speedway
Thursday - Pre-lim night #1
Friday - Pre-lim night #2
Saturday - Final night!
We hope you will join us each and every night!
Tickets are available at the gates & online
TICKET PRICES
(THURS-FRI-SAT)
Adult (18-61): $35 $35 $40
Jr/Sr/Mil (7-17): $30 $30 $35
Child (3-6): $10 $10 $10
Reserved seats can only be purchased with a 3-day pass
ONLINE TICKETS
https://skagitspeedway.showare.com/
RULES
REGISTRATION - Car owners must register for Dirt Cup
http://www.skagitspeedway.com/driverinfo/
TIRES - Must be Hoosier H across the back - or medium on RR. Monday night anything Hoosier is legal.
MUFFLERS- Unaltered, functional mufflers intact at all times. Large oval Flow Master (#5354510), Large Spin Tech box mufflers (#1555) or Schoenfeld (#14272735 or 14272730). Max dba 95 @ 100'.
360 SPRINTS - You must meet 410 class rules to compete.
AGE - Must be at least 16 yrs old.
Back to News