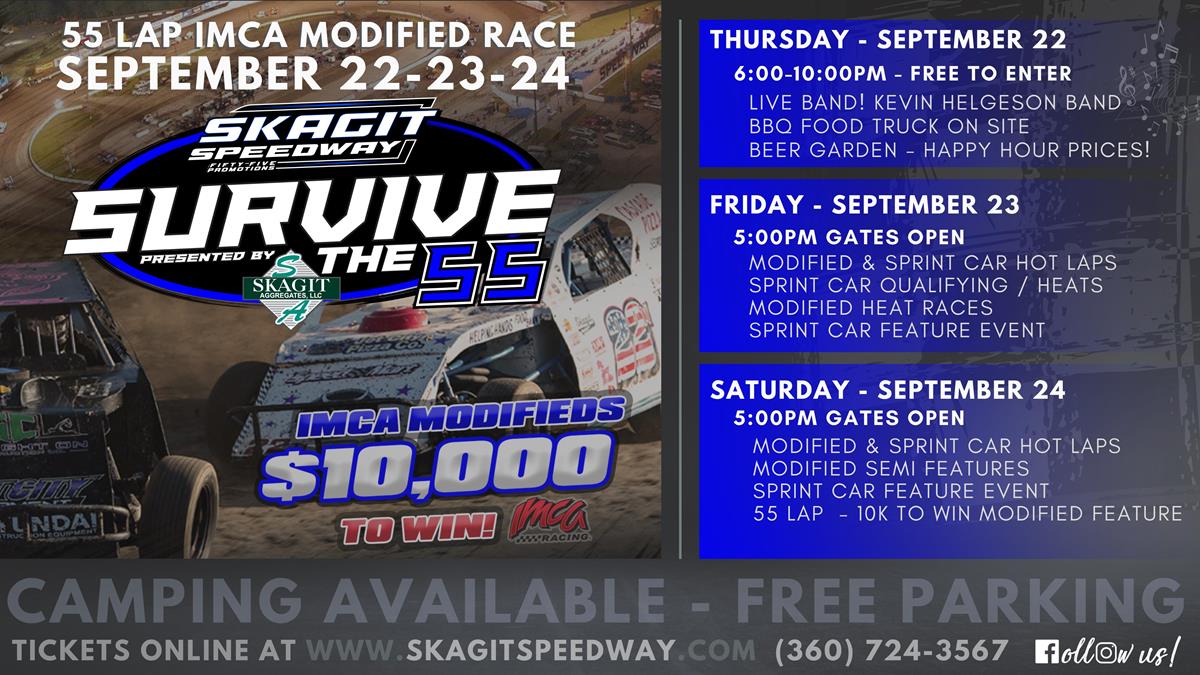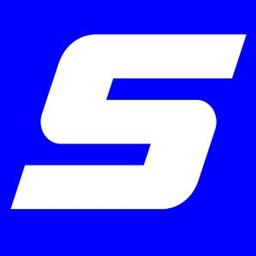 ---
SURVIVE THE 55 - 2-DAY IMCA MODIFIED RACE
$10,000 TO WIN!
Skagit Speedway will host its first two-day, $10,000 to win IMCA Modified race on September 23-24, 2022. Presented by Skagit Aggregates.
This race falls on the last weekend in which IMCA points are tallied for the 2022 season.
For the first time ever a large IMCA Modified event is coming to Skagit Speedway!
The Pacific Northwest's locally owned Skagit Aggregates LLC. is proud to be the title sponsor, in partnership with Skagit Speedway, in holding the 1st Annual "Survive the 55" 2-day race.
The event will highlight and feature IMCA Modified and Sportsman's Sprint racing! The program consists of 3 days of events taking place September 22nd, 23rd and 24th.
Skagit Speedway's new track owners, Fifty-Five Promotions, is proud to team up with promoter Mel Decker who has been consistently advocating for a big IMCA race to come to Skagit Speedway for several years now. The entire weekend is sure to be a lot of family fun with action-packed, top of the line racing and exciting entertainment!
The 3-day event starts off on Thursday, September 22nd with a BBQ, live local band and beer garden from 6 to 10pm. This fan fest is open to the public with free entry. Join us for great food, drinks and music!
Friday, September 23rd is night 1 of racing for both the IMCA Modifieds and Sportsman's Sprints. The evening will consist of opening ceremonies, hot laps and heat races. Concessions, beer garden and merchandise will be available.
Saturday, September 24th will be an all-day event, starting off with the 1st Annual "Survive The 55 Large Truck & Heavy Equipment Show" from 12 to 6pm, also with free entry. Come explore local trucks and equipment of sponsoring companies from all over the Northwest! Enjoy food and drinks while at the truck show.
Following will be night 2 of action-packed racing, featuring the main events at 7pm for both IMCA Modifieds and Sportsman's Sprints. Concessions, beer garden and merchandise will again be available.
Never before has a race of this magnitude for IMCA Modifieds come to our own Skagit Speedway. With the A Main purse paying $10k to win, $5k for 2nd, $2500 for 3rd, $1500 for 4th and $1000 for 5th, this race is sure to provide top of the line racing entertainment from the best of the best in IMCA Modified racing! Race Teams from Oregon, California, Idaho, Utah, Montana and Canada among others are registered and expected to attend the race to compete for the biggest payout in the Northwest.
The entire weekend is dedicated to highlighting the diverse industries of local aggregates, cement, heavy haul, logging, towing, equipment sales, tire companies, construction & farm equipment! This truck show is a sure bet for family fun!
Tickets and info can be found at www.skagitspeedway.com. Regular season pricing for both nights of racing.
Parking is always free at Skagit Speedway. Camping on-site is available all weekend by contacting Skagit Speedway directly at 360-724-3567.
Grab the family, tell your friends, mark your calendar and see you there!
LIVE STREAM
https://dirtovaltv.com/
THURSDAY - September 22
Band - BBQ - Party
FRIDAY - September 23
Heat Races
SATURDAY - September 24
Mains
REGISTRATION IS $110
You MUST be IMCA licensed.
-Registration should be done online at
https://www.myracepass.com/tracks/1901/registrations/5052
PIT PASSES ARE $40 per person, per day.
Available online at
https://www.myracepass.com/tracks/1901/tickets
SKAGIT SPEEDWAY SAFETY RULES SUPERSEDE IMCA OR ANY OTHER RULES.
SATURDAY - SEPT 24
SKAGIT AGGREGATES
SURVIVE THE 55
MODIFIED A-MAIN PURSE
1 $10,000.00
2 $5,000.00
3 $2,500.00
4 $1,500.00
5 $1,000.00
6 $750.00
7 $600.00
8 $500.00
9 $400.00
10 $350.00
11 $350.00
12 $350.00
13 $350.00
14 $350.00
15 $350.00
16 $350.00
17 $350.00
18 $350.00
19 $350.00
20 $350.00
21 $350.00
22 $350.00
23 $350.00
24 $350.00
FRIDAY RACE FORMAT
Draw for heat start position – back gate
DRAW CLOSES AT 4:30 (you go to rear if you do not draw)
36 or less cars 4 heats / 37 – 45 cars 5 heats / 46 – 59 cars 6 heats / 60 + cars 7 heats
HOT LAPS: Cars hot lap with their heat race group
HEAT RACES: All cars run 2 heats, 8 laps.
First set of heats straight up by pill draw.
Second set of heats fully inverted by original heat line up. (Not by heat finish).
Finishing points will be awarded for each heat race.
TOP 18 IN POINTS GO TO SATURDAYS 'A' MAIN
19 – 32 in points go to Saturdays 'B' Main.
33 – 46 in points go to Saturdays 'C' Main.
47 – 60 in points go to Saturdays 'D' Main.
61+ go to Saturdays 'E' main.
If there are 65 cars or less the 'E' Main will not be run
If there are 75 cars or more, additional Mains MAY be added!
SATURDAY RACE FORMAT:
TOP 8 IN A MAIN POINTS REDRAW for starting position on front stretch.
Hot lap E, D, C Main Cars
E MAIN (IF NEEDED) 15 LAPS:
4 transfer to D main.
D MAIN 18 CARS, 15 LAPS:
4 transfer to C Main.
Hot Lap B Main Cars
C MAIN 18 CARS, 20 LAPS:
4 transfer to B main.
Hot Lap A Main Cars
B MAIN 18 CARS, 20 LAPS:
6 transfer to A Main if provisional is NOT used
5 transfer to A Main if provisional IS used
A MAIN 24 CARS 55 LAPS.
FUEL STOP AT 30 LAPS
RULES:
Hoosier G-60 tires only (No Soaking).
Tires and fuel available at the track.
This is an IMCA sanctioned event, must be a member to compete, chassis and motor rules apply.
No car switching once a car is qualified for said night.
Points go to the driver.
Race gas or methanol.
REQUIREMENTS: IMCA LICENSE / REGISTRATION / W-9
PROVISIONAL FOR: 2022 SKAGIT SPEEDWAY CHAMPION
REGISTRATION REIMBURSEMENT: ONE AWARDED FOR LONGEST TOW
PIT PASS: $40 PER PERSON – PER DAY
TRANSPONDER RENTAL: $25 PER DAY – 2 DAYS FOR $40
Back to News