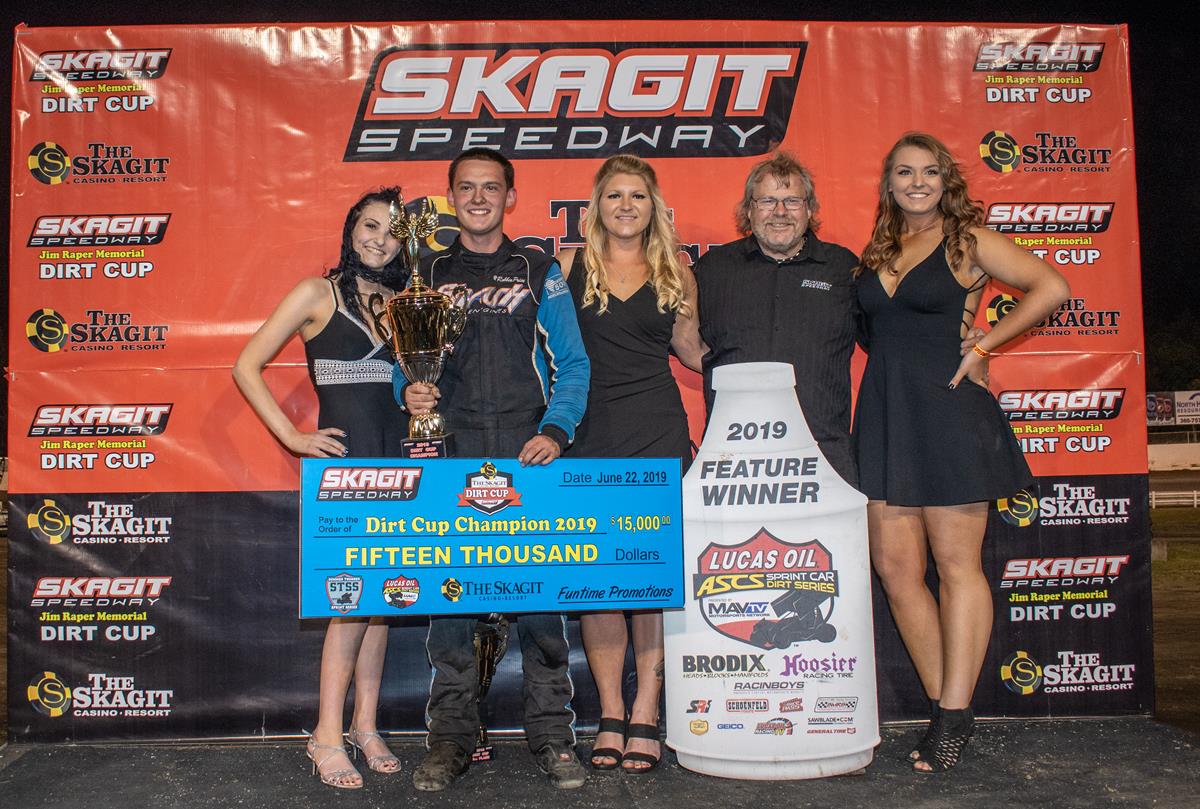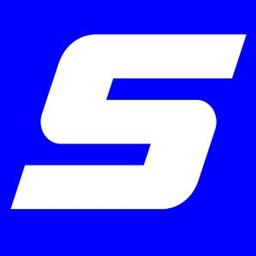 ---
Price Sets New Records in Winning 2019 Dirt Cup
Alger, WA - 21 year old Robbie Price set a bevy of new milestones on Saturday night at Skagit Speedway, becoming the first Canadian born winner and youngest winner by coming out on top of the 2019 Jim Raper Memorial Dirt Cup presented by the Skagit Casino Resort. It was also Price's first win under Lucas Oil American Sprint Car Series sanction.
The initial lead went to polesitter Matt Covington who outraced Blake Hahn for the lap one lead before Hahn diced past him in turn two to grab the point on the second circuit. Hahn held serve until lapped traffic became a major factor, allowing Covington to close back up to his rear nerf. Working on the 14th lap, Hahn made contact with a slower car entering the low side of turn one, spinning out but keeping the car running. A yellow flag would come out and under ASCS rules, Hahn was given position in the field even with wear he would have blended back into the running order, which was fifth and handing the lead back to Covington. On the restart, Jason Solwold took second away from Price but Price rallied back to hold the spot and began his pursuit of Covington. As Covington entered traffic, Price closed and took the top spot on lap 22 and held it through lap 26 before Covington retook the lead on lap 27. Covington would hold the lead through the 30th lap before his engine let loose, giving Price the top spot. Blake Hahn moved into second right after the restart but could not cut far enough into Price's advantage, as the Cobble Hill, BC driver drove on to the win, the first of his career with the Lucas Oil Americian Sprint Car Series and in the process, became the only Canadian born winner of Dirt Cup and the youngest winner of Dirt Cup, eclipsing the mark set by Kasey Kahne at age 22 in 2002. Blake Hahn and Seth Bergman rounded out the podium. Scott Bogucki earned the hard charger award with eight positions gained and Lance Sargent won the Cooks General Contracting Dump Truck award. The race lead changed hands five times between three different drivers, with Price leading 15 laps, Covington leading 13 and Hahn leading 12.
Evan Margeson was the dominant winner of the Wicked Energy Gum Focus Midgets A Main, leading all 25 laps in the Kenny Ferris owned entry. Chance Crum ran second and Nick Evans was third. Margeson won the dash.
48th Annual Jim Raper Memorial Dirt Cup
B Main 1 - Greg Hamilton, Justin Youngquist, Reece Goetz, Harli White, Breyton Davison, Bailey Sucich, Corbyn Fauver, Chris Bullock, Jason Reed, Jordon Mallett, Michael Bollinger, Joe Lyon, Chris Ochs, Jake Helsel, Tanner Holmes
B Main 2 - Justin Sanders, Alex Hill, Tucker Doughty, Cam Smith, Eric Fisher, Luke Didiuk, Ashleigh Johnson, Andrew Caruana, Travis Reber, Nate Vaughn, Brock Lemley, Tyler Thompson, John Stuart, Chase Goetz
A Main - Robbie Price, Blake Hahn, Seth Bergman, Jason Solwold, Scott Bogucki, Sam Hafertepe Jr, Colton Heath, Travis Jacobson, John Carney II, Devon Borden, Justin Sanders, Roger Crockett, Reece Goetz, Greg Hamilton, Austen Wheatley, Justyn Cox, Justin Youngquist, Chris Schmelzle, Lance Sargent, Matt Covington, A;ex Hill, Tucker Doughty
Lap Leaders - Covington 1 Hahn 2-13 Covington 14-21 Price 22-26 Covington 27-30 Price 31-40
Wicked Energy Gum Focus Midgets
Dash - Evan Margeson, Nick Evans, Tanner Holm, Chance Crum, Ashley Thompson, Tristin Thomas, Garrett Thomas, Shane Biles
B Main 1 - Stewart Lee, Renee Angel, Ray Stebbins, Hailey Bower, Jake Austin, Brenden White, Chris Greene, Jeremiah Franklin, Breanna Brostrom, Todd Hartmann
B Main 2 - Mike Stryker, Michael Millard, Guy Tow Sr, Brian Aune, Guy Tow Jr, Jesse Conway, Jamee Gardner, Brian Hayes, Dave Mills, Stuart Milner
A Main - Evan Margeson, Chance Crum, Nick Evans, Tanner Holm, Tristin Thomas, Garrett Thomas, Hannah Lindquist, Jared Peterson, Seth Hespe, Shane Biles, Ross Rankine, Matt Loving, Michael Millard, AJ Fugitt, Sawyer Lind, Alex Peck, Nik Larson, Ashley Thompson, Glen Bittrolf, Stewart Lee, Alden Ostrom, Mike Stryker, Renee Angel, Michael Hodel
Lap Leaders - Margeson 1-25
Article Media
Back to News