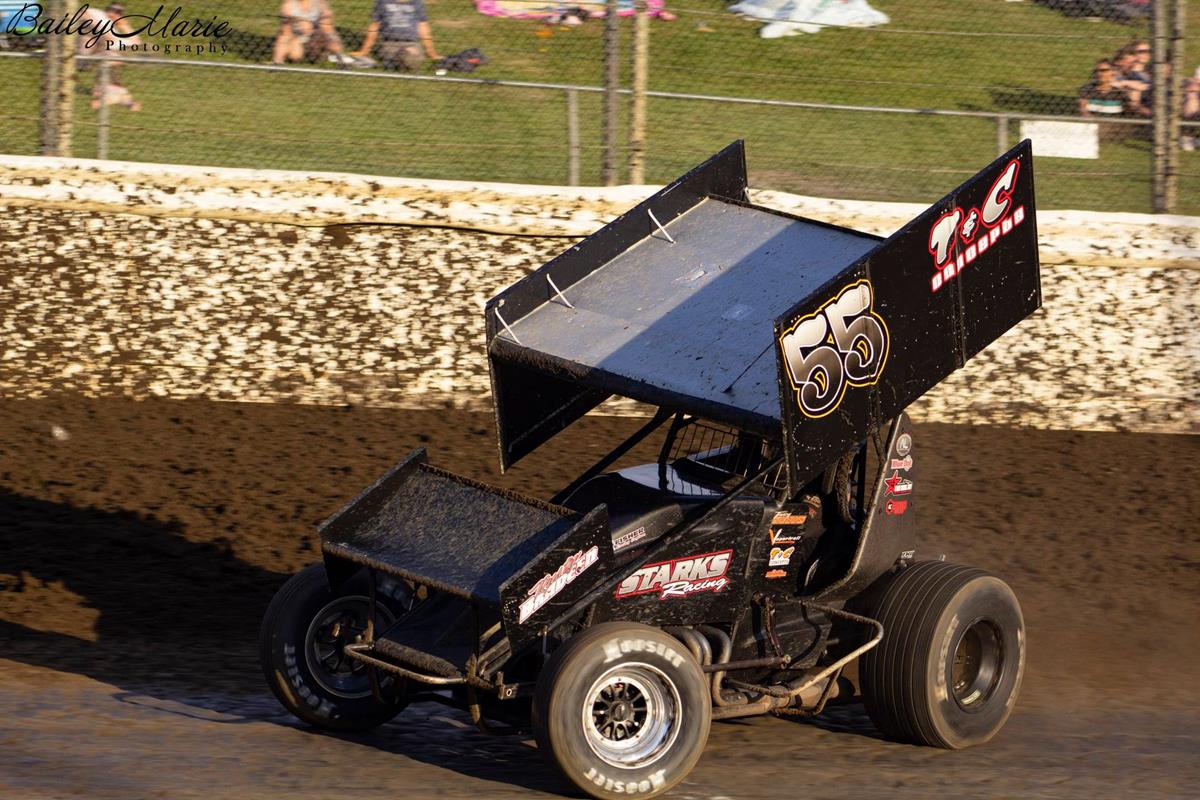 9/9/2021
Inside Line Promotions
---
Starks Rallies for Top-10 Results With World of Outlaws at Skagit Speedway and Grays Harbor Raceway
(Photo by Bailey Marie Photography)
Inside Line Promotions – ELMA, Wash. (Sept. 9, 2021) – Trey Starks captured back-to-back top-10 finishes with the World of Outlaws NOS Energy Drink Sprint Car Series in his home state of Washington last weekend.
Starks competed with the series four straight nights during the holiday weekend that ended with a pair of ninth-place showings and the Hard Charger Award for passing the most cars.
"I feel like for not getting to run a 410 all year and at these tracks in at least a couple of years we were really happy with our results," he said. "We were consistent each night. We had some issues at Grays Harbor on Monday, but I felt like we rebounded fairly well. It was nice to be competitive with the 410 after not being on the road and not running very many races all year."
Starks had similar outings at Skagit Speedway in Alger last Friday and Saturday as both nights ended with an 11th-place result in the A Main. He took a step forward on Sunday during the Sage Fruit Skagit Nationals finale by placing ninth.
"We were improving with the car every night," he said. "There were changes that we made to try to get what I was looking for feeling-wise with the 410 in the car. We started to find it the last couple of nights. The slight gains we made come feature-time showed up. We were right there the whole time all weekend. In the feature we were just a little off late in the race, but we made gains. I'd love to have four more nights because we were improving each night. That definitely gives you some confidence."
Monday got off to a rough start at Grays Harbor Raceway, where a broken rear end in hot laps kept Starks off the track until his heat race.
"We didn't get much track time," he said. "We started in the back of the heat race and that was pretty much our first laps on the track. We were okay. We were in a little bit of a scramble trying to get everything out. We weren't able to make the changes we needed to keep up with the track, but we've run at Grays Harbor a couple of times this year and have been solid so we had an idea of where to be with the car."
Starks moved forward one spot in a heat race to finish sixth before he rallied from 18th to ninth in the main event.
"I kept my head down and moved around enough to find our way by guys," he said. "We had a caution or two fall our way. I tried to find a different spot on the track than the guys in front of us were running. All in all, it was a good night. Following our issues in the beginning we ended up salvaging a good run."
QUICK RESULTS –
Sept. 3 – Skagit Speedway in Alger, Wash. – Qualifying: 10; Heat race: 4 (4); Feature: 11 (9).
Sept. 4 – Skagit Speedway in Alger, Wash. – Qualifying: 11; Heat race: 4 (4); Feature: 11 (11).
Sept. 5 – Skagit Speedway in Alger, Wash. – Qualifying: 8; Heat race: 4 (3); Feature: 9 (11).
Sept. 6 – Grays Harbor Raceway in Elma, Wash. – Qualifying: No Time; Heat race: 6 (7); Feature: 9 (18).
MEDIA LINKS –
Website: http://www.TreyStarksRacing.com
Twitter: https://twitter.com/Starks55Trey
Facebook: https://www.facebook.com/TreyStarksRacing?fref=ts
INSIDE LINE PROMOTIONS –
Inside Line Promotions specializes in affordable public relations and media management for motor sports drivers, teams, sponsors, tracks, series, events, organizations and manufacturers. ILP Founder Shawn Miller leverages professional journalism with new media technologies and social networking to improve your exposure and the return on investment for your sponsors.
To meet the media relations needs of your program by joining Team ILP, contact Shawn at 541-510-3663 or Shawn@InsideLinePromotions.com. For more information on Inside Line Promotions, visit http://www.InsideLinePromotions.com.
---
Article Credit: Inside Line Promotions
Submitted By: Shawn Miller
Back to News