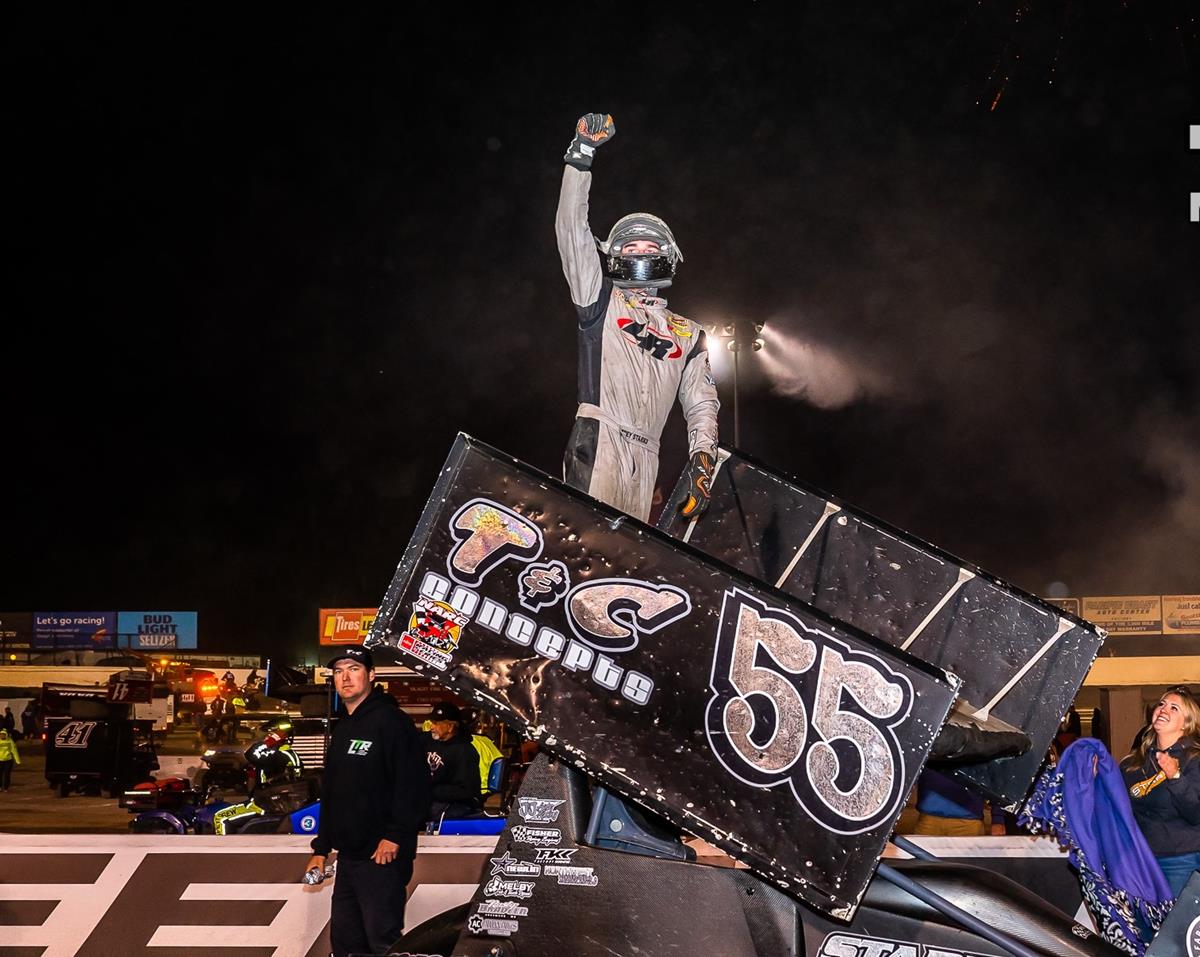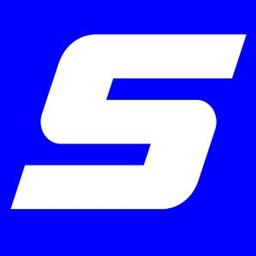 ---
STARKS SCORES SKAGIT WIN!
Alger, WA - For the eighth time in 2022 and the fourth time at Skagit Speedway this year, Trey Starks stood tall in victory lane after another fantastic performance in his family owned sprint car. Les Schwab Tires sponsored Midseason Championship Night, where Starks, Jesson Jacobson, Rick Smith and Adam Holtrop won the feature events.
After setting fast time and winning the dash, Starks set out from the pole of the 30 lap, $3,000 to win Budweiser 360 Sprint A Main event and jetted out to the early lead. It took little time for Jason Solwold to work into second place, and from there, the chase was on, as Starks brought the pair into heavy lapped traffic early in the contest. Trey managed to keep a multiple car length lead most of the time among the slower cars, but Solwold would have a few chances to pull even with Trey as his Shaylen Raye Motorsports car was finding great forward drive down low. Starks would stick primarily to the high side and was stretching his lead when a red flag brought the field together for a lap 26 restart. Solwold gave Trey quite the scare on the restart, actually pulling ahead for the lead for a short run before Starks would reclaim the top spot on the exit of turn two on the high side. Starks would go on to lead the rest of the way for the win ahead of Jason and third place Jesse Schlotfeldt. Both Solwold and Schlotfeldt also won heat races, as did Luke Didiuk.
Skagit Speedway witnessed Jesson jacobson winning his first feature in the Sportsman Sprint division on Saturday night. Jacobson led all 25 laps, and was challenged at times by Steve Parker in slower traffic, but never to the point of losing the top spot. Parker would settle for second with Brett McGhie running third. Jacobson also set quick time on the night. Parker, McGhie and Malachi Gemmer raced to wins in the heats.
Rick Smith has four wins in five main events at Skagit Speedway following his victory at Mid Season Championship night in the Skagit Aggregates Modifieds. Rick took the lead from Brent Morris on the ninth lap and kept the field at bay the rest of the way for the victory. Graham Cook made his first appearance at Skagit Speedway in a couple of seasons worthwhile with a run up to second place, and Geoff Morris came home third. Geoff also collected a heat race win, as did Ben Gunderson.
Adam Holtrop is now a multiple time feature winner on the year in the Hornet class. Holtrop took over the lead early from Colin Sims and held Mike Mcpherson and Brian Michelson at bay to take home the win. Holtrop and Michelson were the heat winners.
Budweiser 360 Sprints
Fast Time - Trey Starks 11.498
Heat 1 - Jesse Schlotfeldt
Heat 2 - Jason Sowlold
Heat 3 - Luke Didiuk
Dash - Trey Starks
Main - Trey Starks, Jason Solwold, Jesse Schlotfeldt, Chase Goetz, Brock Lemley, Lane Taylor, Luke Didiuk, Greg Hamilton, Colby Thornhill, Chase Madjic, Colton Heath, Lance Sargent, Tyler Anderson, Justin Youngquist, Ashleigh Johnson, Cory Johnson, Chris Bullock, Jordi Meese, Reece Goetz, Bill Rude, Dana Glenn, Dylan Marsh.
Lap Leaders - Starks 1-30
Sportsman Sprints
Fast Time - Jesson Jacobson 12.546
Heat 1 - Steve Parker
Heat 2 - Malachi Gemmer
Heat 3 - Brett McGhie
Main - Jesson Jacobson, Steve Parker, Brett McGhie, Kai Dixon, Cory Swatzina, Bill Rude, Levi Klatt, Alden Ostrom, John Tharp, Allison Johnson, Brandon Baker, Corey Summers, Axel Oudman, Shawn Wallenfelz Jr, Matt Loving, James Bundy, Jeff Pearson, Malachi Gemmer, Dustin Gehring, Jake Daniels, Wes Armey
Lap Leaders - Jacobson 1-25
Skagit Aggregates Modifieds
Heat 1 - Geoff Morris
Heat 2 - Ben Gunderson
Man - Rick Smith, Graham Cook, Geoff Morris, Kevin Smith, Alan Grimbly, Brandon Nutter, Jon Gunderson, Ben Gunderson, Cory Gordon, Jason Butenschoen, Travis Ross, Tiernan Dietz, Mel Decker, Dan Butenschoen, Brent Morris, Austin Lovik
Lap Leaders - Morris 1-8 R Smith 9-25
Hornets
Heat 1 - Adam Holtrop
Heat 2 - Brian Michelson
Main - Adam Holtrop, Mike Mcpherson, Brian Michelson, James Anderson, David Dykstra, Colin Sims, Mike Guffey, Brent Shetler, Raven Skaugrud, Ian Buck, Howard Vos, Mike Burt, Dave Hill, Matthew Bonafede, Jeremy Swann
Lap Leaders - Sims 1 Holtrop 2-17
Photo credit: Wildlight Motorsports Photography
---
Article Credit: Kaleb Hart
Back to News