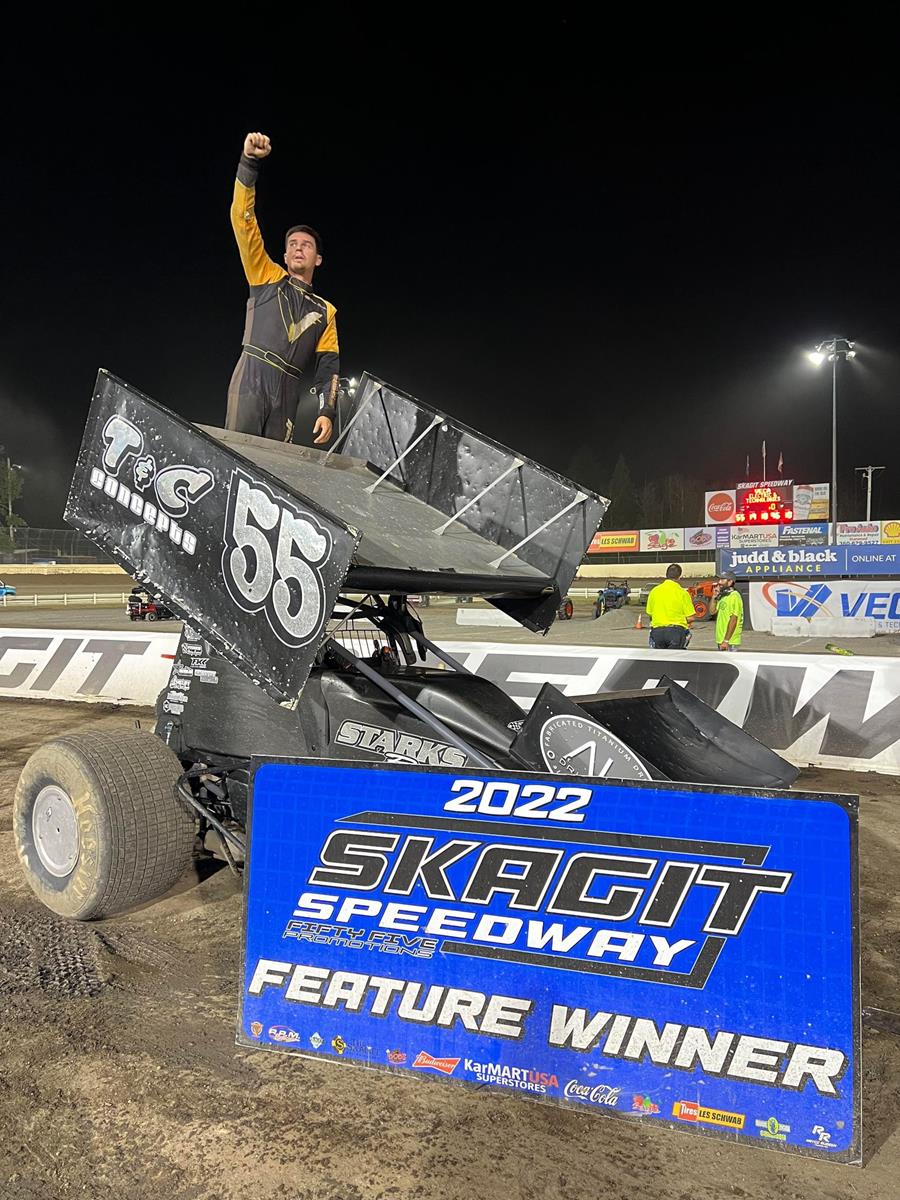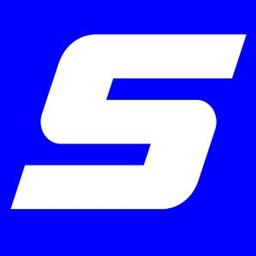 ---
Starks Scores $4K at Skagit Speedway
Alger, WA - On a sweltering summer evening at Skagit Speedway, Trey Starks came away with the $4,000 top prize in the 410 division after going wire to wire for the win in the 30 lap main event.
After winning the dash and earning the pole position for the main, Starks would absolutely carve through traffic and go unchallenged in leading every lap of the main event and in the process, extend his point lead in the division. The battle behind Trey for second was entertaining all race long, with Greg Hamilton, Jason Solwold, Brock Lemley and Colby Thornhill all holding the spot at one point in time. As the checkered flag flew, it was Thornhill securing second as he had just slipped by Solwold on the previous circuit. Solwold set fast time on the night, while Lemley and Hamilton won the heats.
Wrecks and spin outs were the theme of the night in the support divisions, who both ended up having laps cut due to time limits. In the Sportsman Sprints, Dana Glenn raced to his first career win at Skagit Speedway, taking the lead from Brett McGhie on the third lap and leading the rest of the way. McGhie would hold second all race long, while Alden Ostrom grabbed a career best finish in the division with a third place result. Jesson Jacobson, Bill Rude and Glenn were the heat race winners.
Tyson Blood took over the lead on lap two of Skagit Aggregates Modifieds main event and would lead the rest of the way for the victory. After multiple wrecks and restarts, Blood took the checkered flag ahead of Rick Smith and Travis Ross. Blood and Ross won heats, as did Zane Miner.
410 Sprint Cars
Fast Time - Jason Solwold 11.495
Heat 1 - Greg Hamitton
Heat 2 - Brock Lemley
Dash - Trey Starks
Main - Trey Starks, Colby Thornhill, Jason Solwold, Greg Hamiton, Brock Lemley, Tyler Thompson, Luke Didiuk, Bailey Sucich, Justin Youngquist, Barry Martinez, Ashleigh Johnson
Lap Leaders - Starks 1-30
Sportsman Sprints
Fast Time - Brett McGhie 12.673
Heat 1 - Jesson Jacobson
Heat 2 - Bill Rude
Heat 3 - Dana Glenn
Main - Dana Glenn, Brett McGhie, Alden Ostrom, Bill Rude, Steve Parker, Kai Dixon, John Tharp, Brandon Baker, Allison Johnson, Keira Zylstra, Cory Swatzina, Jesson Jacobson, Corey Summers, Ryker Walde, Matt Loving, Levi Kuntz, Shawn Wallenfelsz, Axel Oudman, Levi Klatt, Nick Evans
Lap Leaders - McGhie 1-2 Glenn 3-17
Skagit Aggregates Modifieds
Heat 1 - Zane Miner
Heat 2 - Tyson Blood
Heat 3 - Travis Ross
Main - Tyson Blood, Rick Smith, Travis Ross, Brian Izzi, Don Martin, Ben Gunderson, Brandon Nutter, Dave Harmon, Jon Gunderson, Cory Gordon, Dan Butenschoen, Zane Miner, Austin Rognlin, Mel Decker, Tiernan Dietz, Jason Butenschoen, Austin Lovik, Alan Grimbly, Mike Knox Jr
Lap Leaders - Ross 1 Blood 2-7
---
Article Credit: Kaleb Hart
Submitted By: Social Media
Back to News