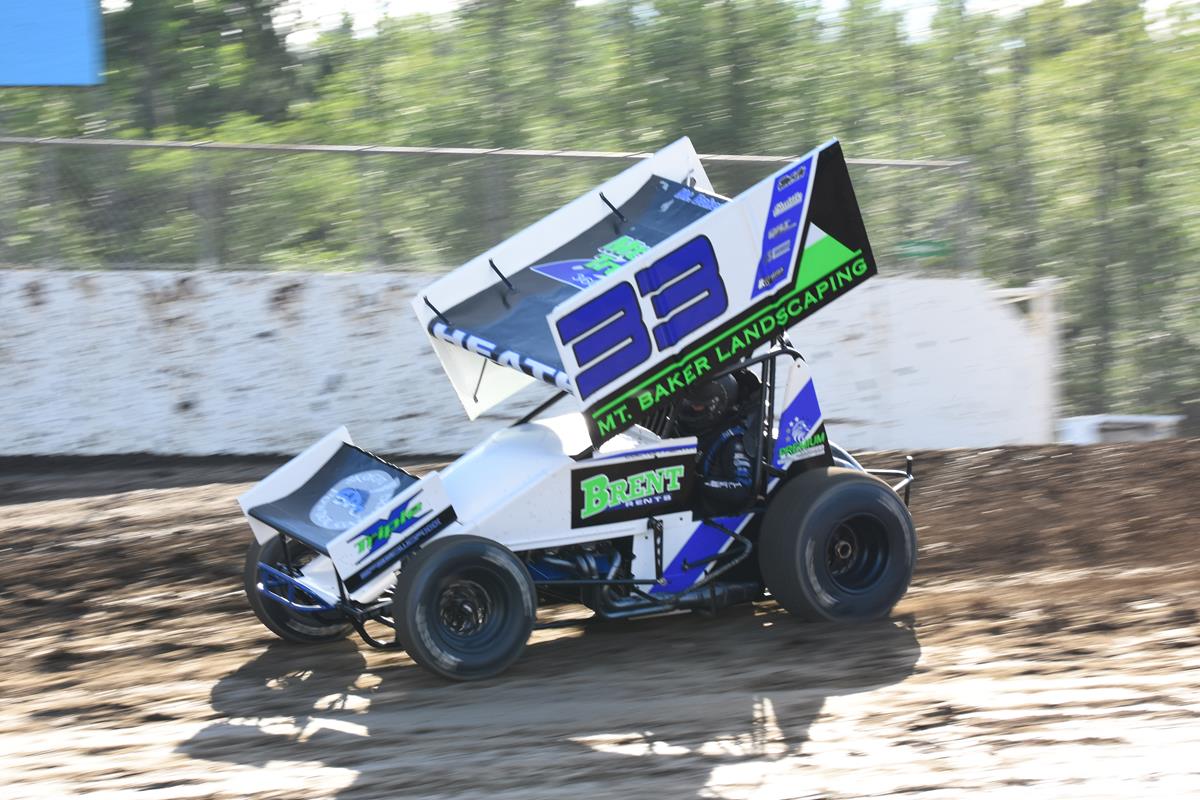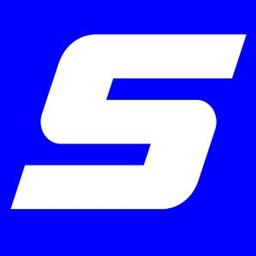 ---
HEATH HIGH-STEPS TO WIN AT SKAGIT
Alger, WA - Another intense race night at Skagit Speedway saw Colton Heath run to his second win of 2022 around the high side of the raceway in the Budweiser 360 Sprints. The support division main events were won by Graham Cook, Tanner Holm and Matt Sommerville.
Chase Goetz led from the drop of the green flag in the 360 main event, with Heath close in the early going before a lap five caution for third place running Greg Hamilton bunched the field. The final 25 laps of the main event would go non stop, with Goetz quickly getting into traffic and Heath right in step with him. Goetz would swap lines to clear slower cars, but Heath found the high side more to his liking and used it to close tight on Goetz. On lap 17, Goetz tried sliding through turns one and two to move past a lap car, and Colton rode around the top to pull right up to his rear bumper before ducking under Chase coming down the back stretch. Heath would power by to take the lead and return up to the top of the track thereafter. Heath would gradually expand his lead while Jesse Schlotfeldt made it past Chase with roughly five laps left and set to work trying to spoil the night for Colton. Jesse closed to within a car length or two in the final two laps, but the night belonged to Heath, with Schlotfeldt taking second and Goetz third. Heath also set fast time. Lane Sargent and Greg Hamiton won the heat races, while Goetz won the dash.
The Skagit Aggregates Modifieds saw Graham Cook take his first Skagit Speedway win of the year. Cook drove under Zane Miner for the lead on lap 12 and was unchallenged the rest of the way in running to the win. Rick Smith rallied from the back of the field after an early spin to finish second, while Ben Gunderson ran third. Miner was a heat race winner along with Brandon Nutter.
Tanner Holm went wire to wire for the win in the NW Focus Midgets for his first Skagit Speedway win. The Monroe, WA driver started on the pole and led all 25 laps with both Shane Smith and Jared Peterson lingering the whole way. Smith and Peterson would have to settle for second and third on the evening. Heat winners were Tristin Thomas, Matt Loving, Alden Ostrom and Nick Evans.
Matt Sommerville is a Skagit Speedway winner for the first time in the Hornets. Sommerville passed race leader Colin Sims in turn one on the final lap when Sims pushed high up the track, giving Sommerville the top spot and the win. While Sims came across the line in second, he ran into the back of Sommerville twice on the final lap and was docked two positions for rough driving at the line, giving second to Roger Burt and third to Brian Michelson. Sommerville and Sims were the heat winners.
Budweiser 360 Sprints
Fast Time - Colton Heath 11.547
Heat 1 - Lance Sargent
Heat 2 - Greg Hamilton
Dash - Chase Goetz
Main - Colton Heath, Jesse Schlotfeldt, Chase Goetz, Jason Solwold, Lane Taylor, Lance Sargent, Tyler Anderson, Justin Youngquist, Luke Didiuk, Jordi Meese, Travis Jacobson, Bailey Jean, Bill Rude, Jeff Dunlap, Malachi Gemmer, Cory Johnson, Dustin Gehring, Greg Hamilton
Lap Leaders - Goetz 1-16 Heath 17-30
NW Focus Midgets
Heat 1 - Tristin Thomas
Heat 2 - Matt Loving
Heat 3 - Alden Ostrom
Heat 4 - Nick Evans
B Main - Hannah Lindquist, Chris Foster, Tyler Ketchum, Brian Aune, Kai Dixon, Brian Rose, Dalton Christmas, Mark Adams, Brain Hayes, Ayuka Carlson, Josh Lee, Jesse Geddes, Joe Shawley, Hailey Bower, Ben Beck
A Main - Tanner Holm, Shane Smith, Jared Peterson, Alex Peck, Michael Hodel, Ashley Thompson, Nick Evans, Sawyer Lind, Jeff Westergard, Tristin Thomas, Jesse Munn, Matt Loving, Hannah Lindquist, Todd Hartmann, Alden Ostrom, Chuck Pierce, Kyle Hanson, Tyler Ketchum, Chris Foster, Brian Aune
Lap Leaders - Holm 1-25
Skagit Aggregates Modifieds
Heat 1 - Zane Miner
Heat 2 - Brandon Nutter
Main - Graham Cook, Rick Smith, Ben Gunderson, Mel Decker, Cory Gordon, Brandon Nutter, Dan Butenschoen, Zane Miner, Mike Knox, Jon Gunderson Jeff Dietz, Alan Grimbly, Dave Harmon, Travis Ross
Lap Leaders - Miner 1-11 Cook 12-25
Hornets
Heat 1 - Matt Sommerville
Heat 2 - Colin Sims
Main - Matt Sommerville, Roger Burt, Brian Michelson, Colin Sims, Trent Gillespie, James Anderson, Brent Shetler Raven Skaugrud, Tina Guffey, Howard Vos, Ron Malcolm, David Dykstra, Ian Buck, Dave Hill, Adam Holtrop, Mike Guffey
Lap Leaders - Sims 1-13 Sommerville 14
---
Article Credit: Kaleb Hart
Submitted By: Social Media
Back to News