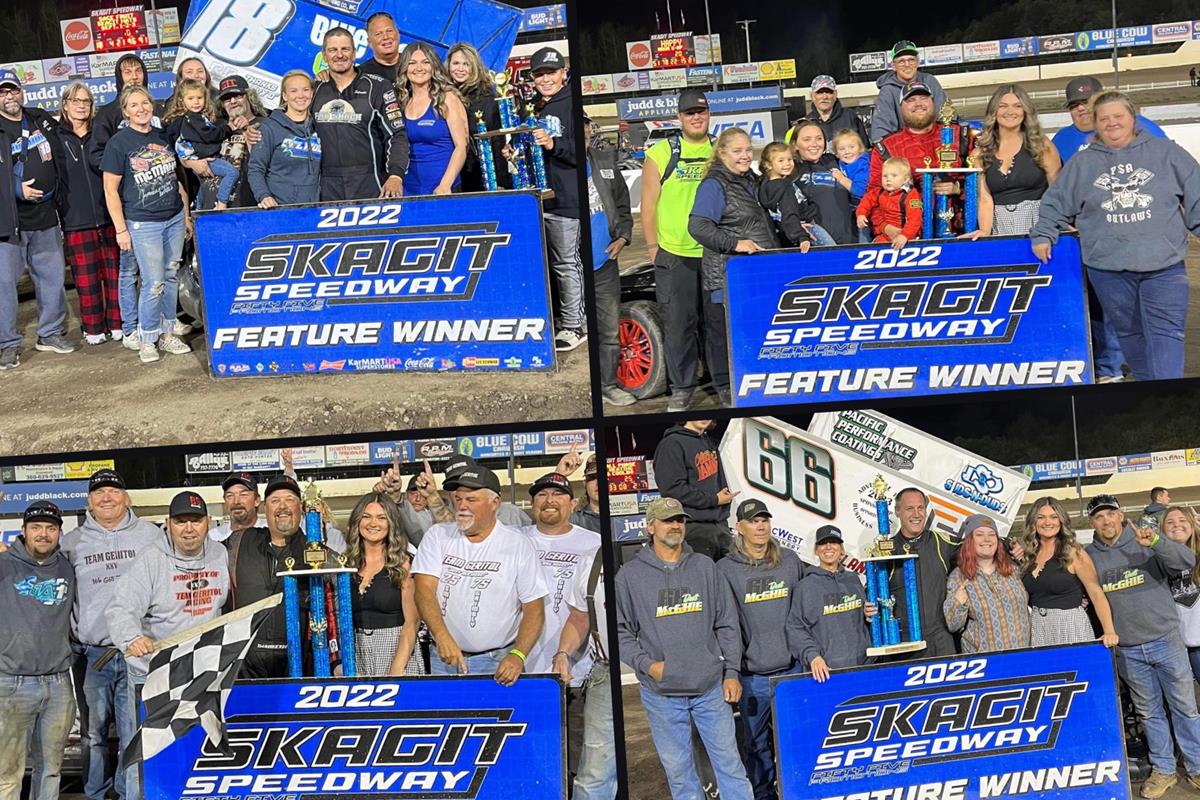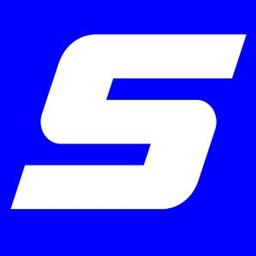 ---
CHAMPIONS CROWNED AT SKAGIT SPEEDWAY
Alger, WA - On the final night of point racing in 2022, four champions were crowned at Skagit Speedway. Three champions capped their year with main event wins, with Brett McGhie, Rick Smith and Adam Holtrop taking the feature win to go with their season title. Chase Goetz played the ultimate spoiler in the 360 division, taking the main event win while Jason Solwold won the track title.
Three different drivers each held the lead twice in the Budweiser 360 Sprints season finale. Jason Solwold led the first six laps before Chase Goetz snagged the top spot from him on a restart. Solwold drove back by Goetz to take the lead on lap eight, while Trey Starks moved himself into contention, driving from his seventh place starting spot to third. Solwold held the lead till lap fifteen when Starks got by him to take the top spot. As Starks went to extend his lead, he encountered mechanical failure, ending his night and handing the lead back to Solwold for a lap 18 restart. Jason looked to be working towards his second feature win of the year when his car lost speed, allowing Goetz to clear him for the lead on lap 25. It was all Chase the rest of the way in taking the win ahead of Colton Heath and Greg Hamilton. Despite whatever slowed him persisting through the checkered flag, Jason kept enough speed to finish fifth on the night and took home the season title in the process for the Shaylen Raye Motorsports team. Trey Starks was the fastest of the qualifying cars, while Solwold won the scramble.
It took six tries to get the Sportsman Sprint main up and running, with attrition playing a huge factor throughout the field. As the checkered flag fell, it was Brett McGhie leading every lap of the main event and securing the season championship in the process. Bill Rude and Steve Vague rounded out the podium. McGhie won the scramble. Malachi Gemmer secured fast time.
Rick Smith finished out his impressive season with another feature win for Team Geritol racing and a season championship to boot. Rick led all 25 laps of the main event without challenge after securing the pole position by winning the scramble. Second went to Ben Gunderson and third was Alan Grimbly.
Adam Holtrop capped off his championship with an entertaining win in the Hornet class. After winning the scramble, Holtrop chased Colin Sims around for four laps before sneaking by him on lap five and held strong the rest of the way for the win. Roger Burt came from dead last to challenge Holtrop late but would end up second while Brian Michelson started second to last and raced to third.
Budweiser 360 Sprints
Fast Time - Trey Starks 11.237
Scramble - Jason Solwold
Main - Chase Goetz, Colton Heath, Greg Hamilton, Lane Taylor, Jason Solwold, Tyler Anderson, Justin Youngquist, Jesse Schlotfeldt, Luke Didiuk, Bailey Jean, Ashleigh Johnson, Bill Rude, Trey Starks
Lap Leaders - Solwold 1-6 Goetz 7 Solwold 8-14 Starks 15-17 Solwold 18-24 Goetz 25-30
Season Champion - Jason Solwold
Sportsman Sprints
Fast Time - Malachi Gemmer 12.231
Scramble - Brett McGhie
B Main - Alden Ostrom, Steve Vague, Axel Oudman, Ryker Walde, Shawn Wallenfelsz, Jeff Pearson, Cale Brooke, Wes Armey, Matt Loving
A Main - Brett McGhie, Bill Rude, Steve Vague, Cory Swatzina, Axel Oudman, Levi Klatt, Kai Dixon, Ryker Walde, Malachi Gemmer, Dustin Gehring, Steve Parker, Jesson Jacobson, Corey Summers, Alden Ostrom, Allison Johnson, Dana Glenn
Lap Leaders - McGhie 1-25
Season Champion - Brett McGhie
Skagit Aggregates Modifieds
Scramble - Rick Smith
Main - Rick Smith, Ben Gunderson, Alan Grimbly, Mel Decker, Adam Holtrop, Travis Ross, Dan Butenschoen, Zane Miner, Dave Harmon, Brandon Nutter, Cory Gordon, Jon Gunderson, Tiernan Dietz
Lap Leaders - Smith 1-26
Season Champion - Rick Smith
Hornets
Scramble - Adam Holtrop
Main - Adam Holtrop, Roger Burt, Brian Michelson, Colin Sims, Matt Sommerville, Jon Gunderson, James Anderson, David Dykstra, Brent Shetler, Dave Hill, Raven Skaugrud, Tammy Guffey, Ian Buck, Ron Malcolm, Mike Guffey
Lap Leaders - Sims 1-4 Holtrop 5-20
Season Champion - Adam Holtrop
---
Article Credit: Kaleb Hart
Back to News