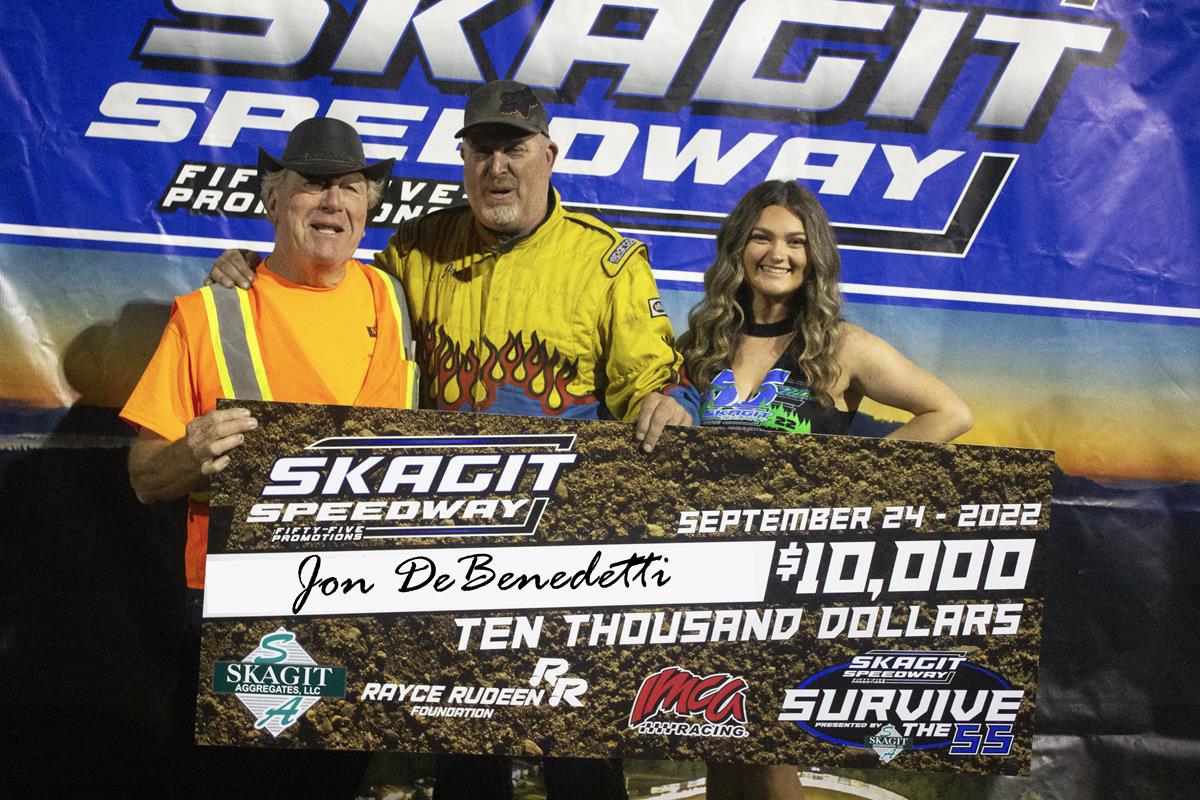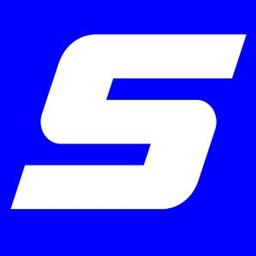 ---
Debenedetti Survives the 55
Alger, WA -Jon Debenedetti survived 55 laps of racing at Skagit Speedway and walked away with $10,000 to show for his efforts on Saturday night.
Skagit Aggregates sponsored two nights of modified action at Skagit Speedway and Debenedetti, the veteran Oregon driver, proved up to the task as the checkered flag fell. Debenedetti took the lead over on lap 30 of 55, and would lead the rest of the way to score the victory, holding off a strong late race challenge from runner up Jesse Williamson and eventual fourth place finisher Bricen James. James was running second and made a dive bomb at Debenedetti in turn two with two lap sleft that came up short, costing him second and the final spot on the podium, which went to Eston Whisler.
The highest paying race of the year for Sportsman Sprints ran as the companion show to the Survive the 55 modified race. Veteran Jason Solwold closed out his season with a victory, driving the Shaylen Raye Motorsports entry past Kai Dixon on lap four and running unchallenged the rest of the way to pick up the $2,500 payday. Luke Didiuk advance to second with Dana Genn taking third.
Sportsman Sprints
Fast Time - Malachi Gemmer 12.363
B Main - Dustin Gehring, Cale Brooke, Allison Johnson, Wes Armey, Jeff Pearson
A Main - Jason Solwold, Luke Didiuk, Dana Glenn, Alden Ostrom, Kai Dixon, Levi Klatt, Bill Rude, James Bundy, Wes Armey, Steve Parker, Dustin Gehring, Shawn Wallenfelsz, Cale Brooke, Allison Johnson, Malachi Gemmer, Cory Swatzina
Lap Leaders - Dixon 1-3 Solwold 4-25
Modifieds
C Main - Mark Carroll, Blair Shoemaker, Skyler Winebarger, Zachary Fuller, Matt Duste, Travis Ross, Dan Butenschoen, Cory Gordon, Tim Phillips, Dave Harmon, Brandon Nutter, Alan Grimbly, Jason St Paul, Tiernan Deitz, Brian Harding, Austin Lovik
B Main - Matthew Drager, John Campos, Tyson Blood, Joey Price, John Gaynor, Mark Carroll, Austin Rognlin, Brad Martin, Kevin Smith, Zachary Fuller, Devon Reed, Kevin Hanson, Jeremy Martin, Skyler Winebarger, Graham Cook, Robert Jenner, Geoff Morris, Trevor Labarge, Greg Walters, Zane Miner, Blair Shoemaker, Adam Holtrop
A Main - Jon Debenedetti, Jesse Williamson, Eston Whisler, Bricen James, Ian Whisler, Ty Clemens, Joey Price, Craig Cassell, Mark Carroll, Steven Sturdevant, John Campos, Lawrence O'Connor, Nick Trenchard, Matthew Drager, Robert Jenner, Rick Smith, Jeffrey Hudson, Kevin Smith, Ben Gunderson, Don Martin, Tyson Blood, Collen Winebarger, Nick Bessette, John Gaynor, Aaron Elwess, Grey Ferrando
Lap Leaders - Trenchard 1-29 Debenedetti 30-55
---
Article Credit: Kaleb Hart
Submitted By: Social Media
Back to News