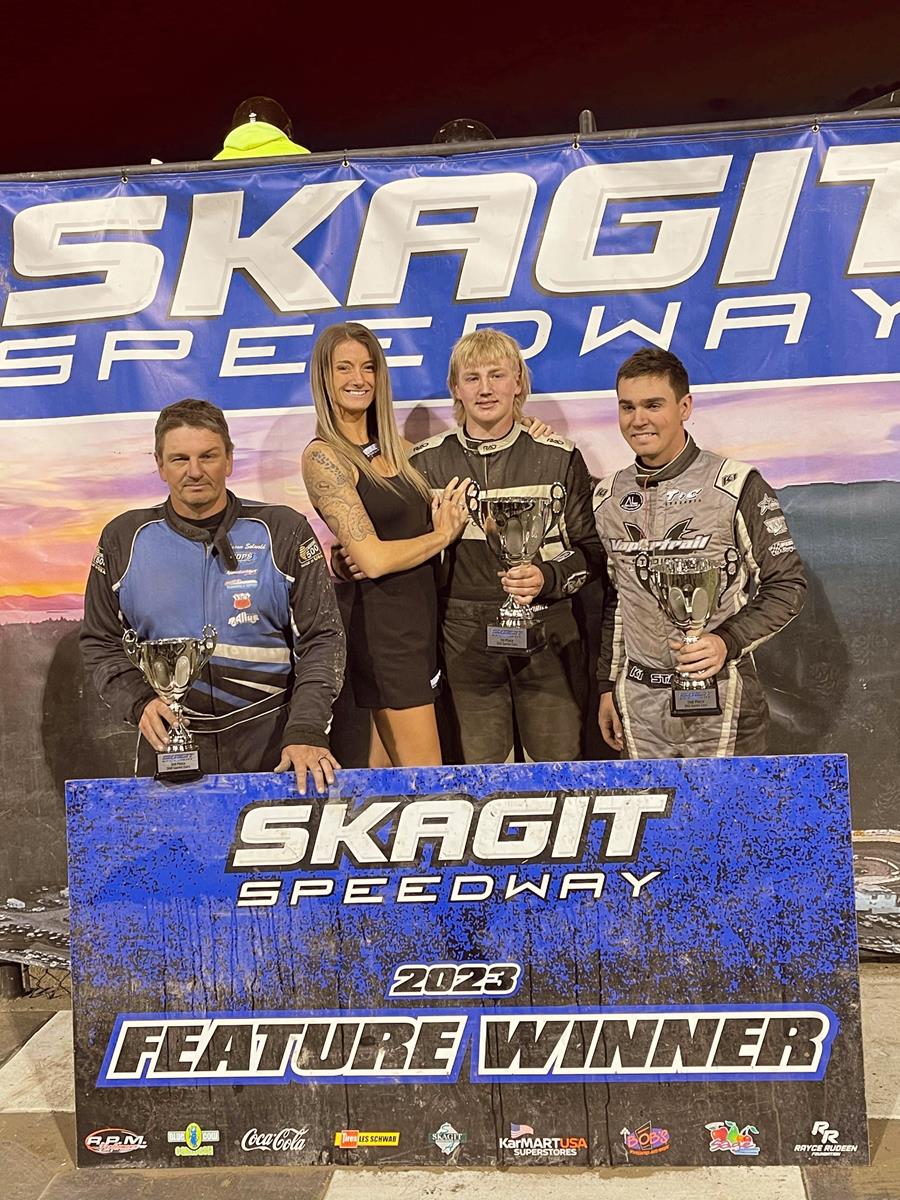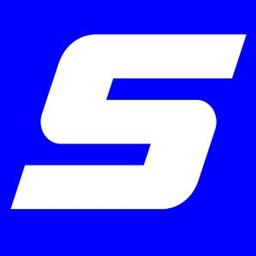 ---
Thornhill, Morris, and Fisher, all park in in Victory Lane at Skagit Speedway
Alger, WA (6/17/23) – Action aplenty filled the night at Skagit Speedway amongst the 360 Division, Sportsman Sprint Car Division, and the Skagit Aggregates Modified.
In the 360 Division Colby Thornhill bested the field for his first win of the year and second win all-time at Skagit Speedway. Having to come from sixth place in the A-Main to get it done, Thornhill made moves on the restarts to get himself into position to attack race leader Jason Solwold.
"Then after that red, I felt like I had a really good car and we were all back in a bunch and I felt that was my time to pick them off as I could," Thornhill said. "I started cheating it into three and hitting the moisture on exit and I was slowly gaining on Solwold and then we finally got him."
After he got by Solwold Thornhill had to be consistent and hit his marks up top to remain out front.
"You just want to try and do the same thing every lap," Thornhill stated when asked about how technical the high side was. "The top stayed pretty close, it got a little treacherous off of four, and I think it got me a couple of times, but other than that you just gotta keep doing what you're doing, I knew what I was doing worked so I just tried to hit my marks."
Eric Fisher in the Sportsman Sprint Car Division has now led almost every lap that has been run at Skagit Speedway. Through three Sportsman races and 76 total laps, Fisher has led 75 and three-quarters of that 76-lap total. Fisher picked up his second win of the year last night leading all 25 laps, however, he had Levi Klatt and Levi Kuntz hot on his tail. Klatt and Kuntz both came from third and sixth respectively tracking down Fisher lap by lap but never getting the chance to pull the trigger until a late race caution gave them a chance.
Fisher had taken the white flag with Klatt and Kuntz hot on his heels but Fisher was able to hold them back, however, while going through the final corner, the yellow flag flew meaning it was going to be a green, white, checkered finish. With the lap cars moved to the back the field bunched back up on Fisher it was anyone's race to win.
"It was actually pretty tricky," Fisher said when asked about the final restart. "I felt better on the top, but I knew if I went to the top, I would just leave myself open, and Levi [Klatt] would be there to slide me so I kinda had to just run protective on the bottom. It's not where I want to be but it worked."
Late race drama for the Skagit Aggregates Modified between winner Geoff Morris and Tyson Blood. Morris and Blood battled most of the race with Blood getting the upper hand and taking the lead. While fighting through lap traffic Morris got into the back of Blood spinning him out of the lead. Morris went on to win his second race of the year but was quick to apologize to Blood in his post-race interview for the contact.
"First and foremost I gotta apologize to Tyson, he's a hell of a race car driver, and he doesn't deserve that," Morris said. This should be his win and that's 100% on me so sorry Tyson."
It is now time for the 51st Annule Jim Rapper Memorial Super Dirt Cup at Skagit Speedway and it all starts Tuesday, June 20th, with the prelude to Dirt Cup! Then Thursday, June 22nd through Saturday, June 24th is when it all goes down for $62,000!
Full Rundown:
360 Sprint Cars
Qualifying: Trey Starks 11.652
Heat 1: Jason Solwold
Heat 2: Colton Heath
Heat 3: Luke Didiuk
Dash: Jason Solwold, Trey Starks, Jesse Schlotfeldt, Colton Heath, Luke Didiuk, Colby Thornhill
A-Main: Colby Thornhill, Trey Starks, Jason Solwold, Colton Heath, Chase Goetz, Luke Didiuk, Cam Smith, Jordi Meese, Ashleigh Johnson, Sean MacDonell, Duke Johnson, Tanner Holm, James Bundy, Shawn Wallenfelsz Jr., Jesse Schlotfeldt, Dan Reynolds, Mady Stichal, Alex Oudman (DNS)
Lap Leaders: Jason Solwold 1-3, Colton Heath 4-5, Jason Solwold 6-8, Colby Thornhill 9-30
Sportsman Sprint Cars
Qualifying: Eric Fisher 12.633
Heat 1: Eric Fisher
Heat 2: Cory Swatzina
A-Main: Eric Fisher, Levi Klatt, Levi Kuntz, Cory Swatzina, Alden Ostrom, Jesson Jacobson, Kai Dixon, Keira Zylstra, Bill Rude, Steve Parker, Seth Hespe, Wes Armey, Jeff Pearson, Dustin Gehring, Allison Johnson, Ronnie Cox
Lap Leaders: Eric Fisher 1-26
Modifieds
Heat 1: Brandon Nutter
Heat 2: Rick Smith
Heat 3: Geoff Morris
A-Main: Geoff Morris, Scott Miller, Craig Moore, Lane Zerbin, Miles Beaulieu, Tyson Blood, Zack Washington, Leslie Swift, Ben Gunderson, Dave Harmon, Adam Holtrop, Brian Izzi, Jon Gunderson, Rick Smith, Cory Gordon, Dan Butenshoen, Tiernan Deitz, Brandon Nutter, Chris Beaulieu, Zane Miner, Austin Rognlin, Austin Smith, Alan Grimbly, Ronald Comfort (DNS)
Lap Leaders: Adam Holtrop 1, Rick Smith 2-3, Geoff Morris 4-11, Tyson Blood 11-21, Geoff Morris 22-23
Back to News