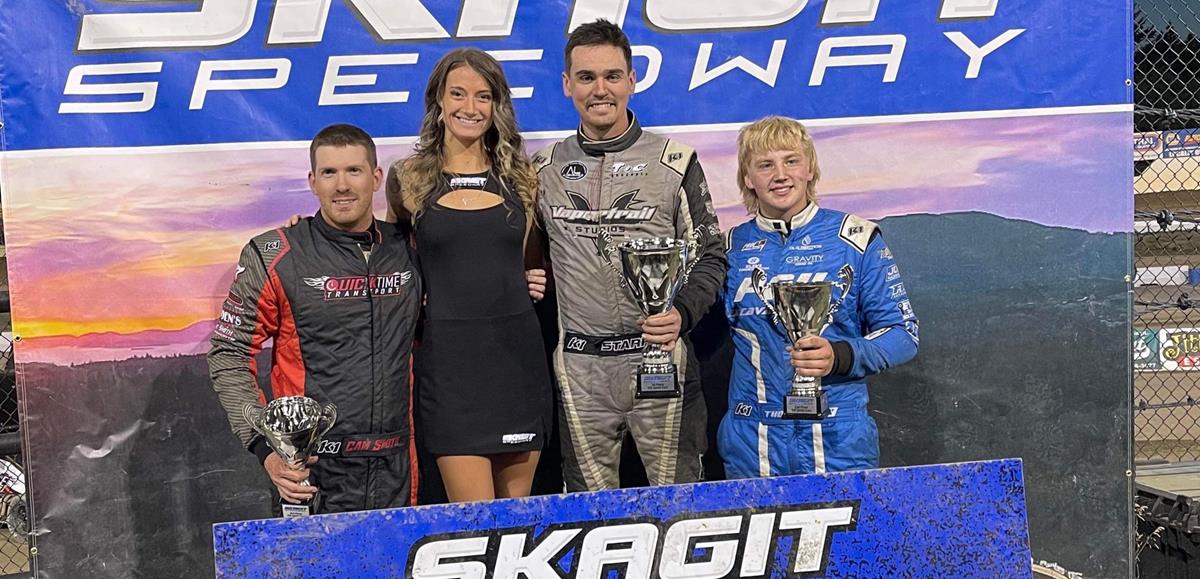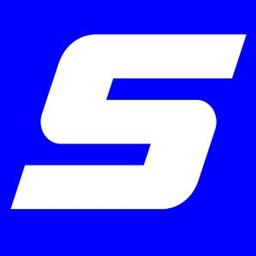 ---
STARKS SHOOTS TO 4TH SKAGIT SPEEDWAY WIN!
Alger, WA - Picking up right where he left off, Trey Starks continued his dominance of the Karmart USA Superstores 410 Sprint Cars with his fourth victory of 2023. Starks was joined in victory lane by Levi Klatt in the Sportsman Sprints and Tommy Velasquez III in the AMCA Bandit Dwarf Cars.
Starks looked to have his work cut out for him early in the night as he had a sixth place starting spot in the dash after winning his heat. Circumstances started breaking right for him at the drop of the green flag in the dash, as he cut his way through the field to win the dash, earning the pole for the 30 lap main event for the Karmart USA Superstores 410s. Trey would lead from the drop of the green flag all the way to the checkered virtually unchallenged, remaining unbeaten in weekly racing for the division on the year. Colby Thornhill raced from 8th to 2nd and was closing on Starks late but ended up settling for second while Cam Smith had his best run of the year in third. Jason Solwold set quick time and Starks and Justin Youngquist won the heat races.
Levi Klatt made another late race pass of Eric Fisher to win his second Sportsman Sprint main event of the year. Klatt found an open lane around the top of the track and used a slower car like a basketball style screen to pin Fisher low on the track, passing him around the high side for the lead on lap 24 and scoring the win just one lap later. Fisher, who has led nearly every lap of main event action for the Sportsmen Sprints was relegated to second while Alden Ostrom ran third. Fisher won his heat and also set quick time. Other heat winners were Klatt and Levi Kuntz.
The AMCA Bandit Dwarf Cars made the first appearance at Skagit Speedway in four years, and when the dust settled on the main event, it was Oregon based driver Tommy Velasquez III leading laps four through twenty-five in taking the win. Josh Rogers and Tylor Howard both tried chasing him down but ended up finishing second and third. The 19 car field saw Anthony Pope set quick time, with Velasquez III and Pope winning the action filled heat races.
Karmart USA Superstores 410 Sprints
Fast Time - Jason Solwold
Heat 1 - Justin Youngquist
Heat 2 - Trey Starks
Dash - Trey Starks
Main - Trey Starks, Colby Thornhill, Cam Smith, Austen Wheatley, Luke Didiuk, Jesse Schlotfeldt, Eric Fisher, Justin Youngquist, Bailey Jean, Shawn Wallenfelsz Jr, Jason Solwold, Corey Summers
Lap Leaders - Starks 1-30
AMCA Dwarf Cars
Fast Time - Anthony Pope
Heat 1 - Tommy Velasquez III
Heat 2 - Anthony Pope
Main - Tommy Velasquez III, Josh Rogers, Tylor Howard, Anthony Pope, Kyle Frelich, Bryson Smith, Dave Brune, Mike Schoen, Dale Knutsen, Darly Knutsen, Jay Elliot, David McClaughry, Chris Kress, Jake Tupper, Cameron Stark
Lap Leaders - Frelich 1-3 Velasquez 4-25
Sportsman Sprints
Fast Time - Eric Fisher
Heat 1 - Eric Fisher
Heat 2 - Levi Kuntz
Heat 3 - Levi Klatt
Main - Levi Klatt, Eric Fisher, Alden Ostrom, Kai Dixon, Jesson Jacobson, Seth Hespe, Steve Parker, James Bundy, Bill Rude, Keira Zylstra, Cory Swatzina, Ronnie Cox, Dustin Gehring, Wes Armey, Levi Kuntz, Ryker Walde, Allison Johnson, Jeff Pearson
Lap Leaders - Fisher 1-23 Klatt 24-25
---
Article Credit: Kaleb Hart
Back to News