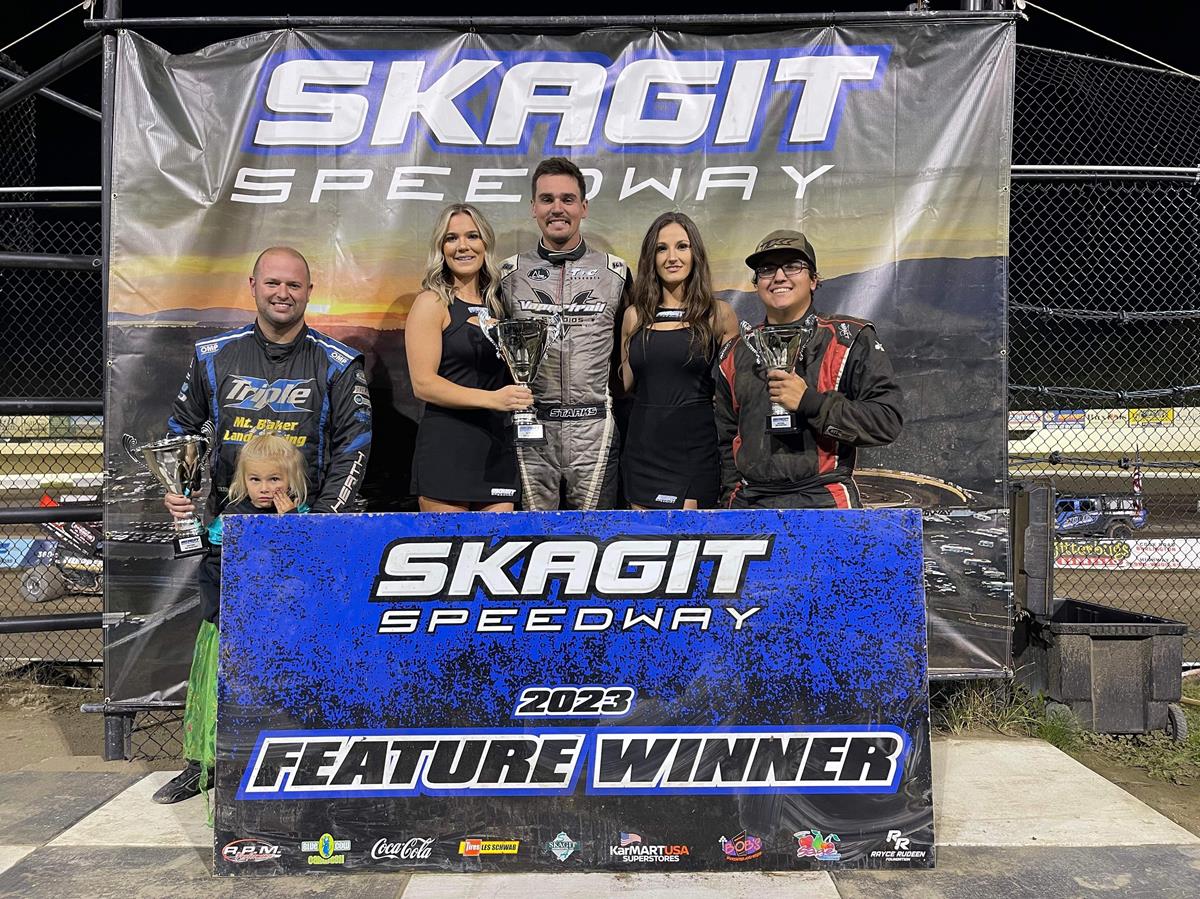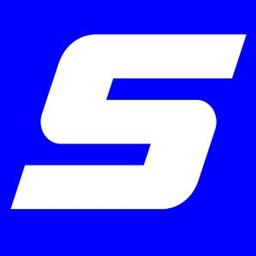 ---
Starks, Klatt and Smith Victorious at Skagit Speedway
9/9/23
Alger, WA - On the final night before Season Championship Night next week, three drivers stood tall in victory lane at Skagit Speedway after an intense night of racing.
Cam Smith set out to the early lead in the 360 Sprint main event with Trey Starks right on his tail tank. The pair had an incredible race in front of the pack, with Smith forcing Starks to keep trying different lines around the racey surface to try and find his way by. Starks finally found the right combination on lap 18, powering by Smith on the low side of the track in turn two in what was the race winning pass. Unfortunately for Smith, his great run ended one lap later with a flip in turn two that also collected third place running Chase Goetz. When the race resumed, it was Starks leading the rest of the way for the victory, with Colton Heath and Jordi Meese rounding out the podium. Starks was fast time. Smith won his heat race and the dash. Goetz won the other heat race.
In the Sportsman Sprints, Jesson Jacobson led the first lap of the main, but Levi Klatt zoomed into the top spot on lap two and would go the rest of the way to take the win and completely tighten up the point battle for the championship heading into the final week. Jacobson ran a strong second while Steve Vague brought his car home in third. Steve Parker set fast time. Klatt, Eric Fisher and Jacobson were the heat race winners.
Drama was all over the place in the final stages of the Skagit Aggregates Modifieds main event. With the cars going topless for the first time, Tyson Blood dominated the feature and looked poised to pickup another Skagit Speedway win. Chris Beaulieu had picked his way through the field and as the race got late, found himself in second place and running down Blood. Coming into turn three on the final lap, Beaulieu got into the back of Blood, with Tyson looping the car and collecting third place running Adam Holtrop in the process. Beaulieu was sent to the pits, completely rewriting the top three of the race with Austin Smith now in the top spot and his uncle, former track champion Kevin Smith, directly behind him. With a green-white-checkered restart on hand, it was old age and treachery winning out over youth and exuberance as Kevin found a path underneath Austin and led the final two laps for the win. For Austin, it was a career best second place, and third place running Cory Gordon also collected a career best result. Blood, Kevin Smith and Geoff Morris won the heats.
360 Sprints
Fast Time - Trey Starks 11.599
Heat 1 - Cam Smith
Heat 2 - Chase Goetz
Dash - Chase Goetz
Main - Trey Starks, Colton Heath, Jordi Meese, Jason Solwold, Luke Didiuk, Axel Oudman, Ashleigh Anstenson, Lance Sargent, Dustin Gehring, Chase Goetz, Shawn Wallenfelsz Jr, Dallas Melby, Cam Smith, Duke Johnson
Lap Leaers - Smith 1-17 Starks 18-30
Sportsman Sprints
Fast Time - Steve Parker 12.627
Heat 1 - Levi Klatt
Heat 2 - Jesson Jacobson
Heat 3 - Eric Fisher
B Main - Ronnie Cox, Dustin Gehring, Jayden Whitney, Destry Miller, Cale Brooke, Jeff Pearson, Steve Parker, Brian Holmkvist
A Main - Levi Klatt, Jesson Jacobson, Steve Vague, Eric Fisher, Levi Kuntz, Keira Zylstra, Cory Swatzina, Kai Dixon, Dustin Gehring, Tom Weiss, Destry Miller, Jayden Whitney, Alden Ostrom, Ronnie Cox, Bill Rude, Brett McGhie
Lap Leaders - Jacobson 1 Klatt 2-25
Skagit Aggregates Modifieds
Heat 1 - Tyson Blood
Heat 2 - Kevin Smith
Heat 3 - Geoff Morris
Main - Kevin Smith, Austin Smith, Cory Gordon, Zane Miner, Rick Smith, Brent Morris, Lee Swift, Branden Nutter, Adam Holtrop, Austin Lovik, Tyson Blood, Jon Gunderson, Ben Malmstadt, Tiernan Dietz, Ben Gunderson, Miles Beaulieu, Geoff Morris, Dave Harmon, Chris Beaulieu
Lap Leaders - Blood 1-24 K Smith 25-26
---
Article Credit: Kaleb Hart
Article Media
Back to News