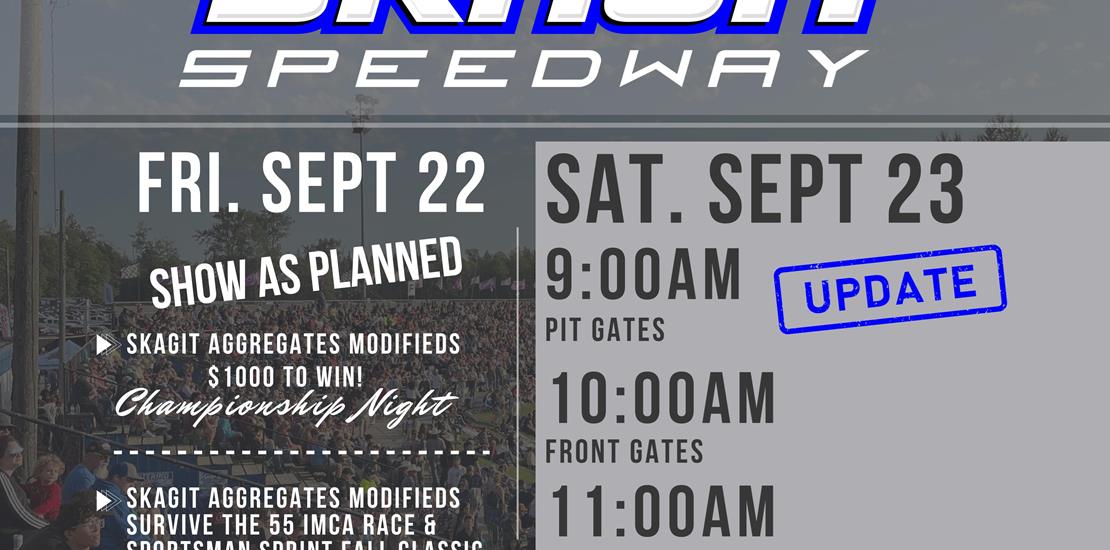 9/21/2023 -
SEPT 22-23 UPDATE We all know there is weather coming and forecasted for Saturday. We are taking the precautionary measures and moving the Saturday s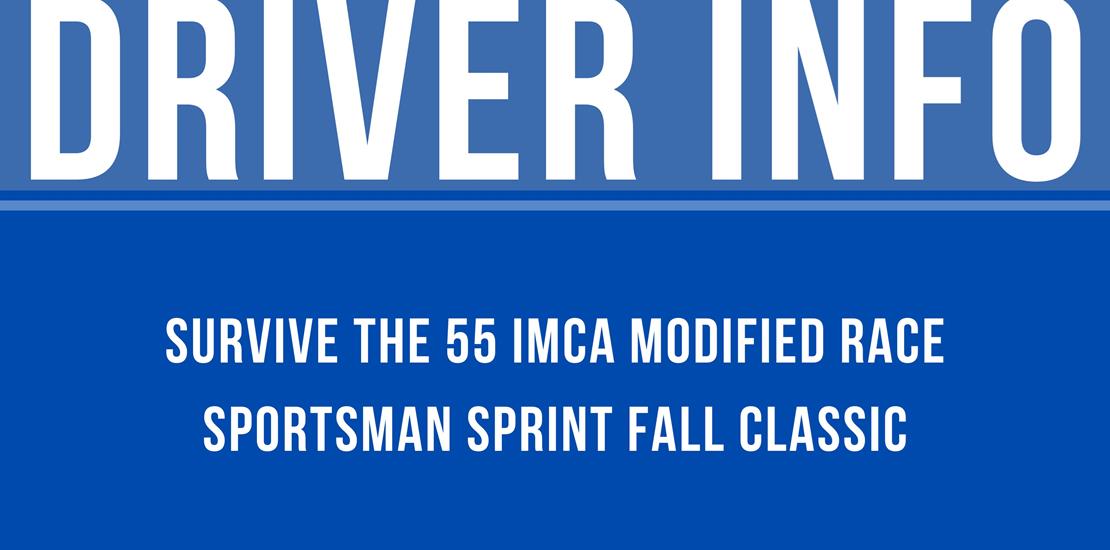 9/19/2023 -
MODIFIEDS FRIDAY PILL DRAW ENDS AT 4:30PM HOT LAP IN HEAT RACE GROUP HEAT RACES LINED UP BY PILL DRAW PASSING POINTS FOR HEAT RACES +5 GAIN / -1.5 LOS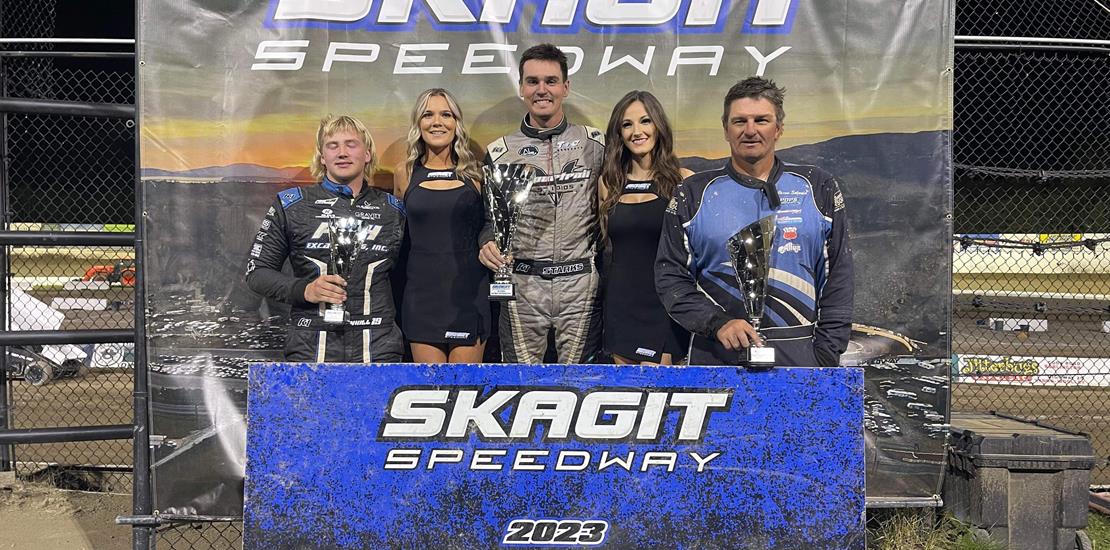 9/17/2023 -
9/16/23 Alger, WA - On a cold night, the action was hot at Skagit Speedway as we crowned four champions and lit up the night sky with a gigantic firew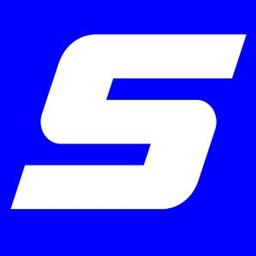 6/15/2019 - Skagit Speedway
Burlington, WA
Round #9 - ROLLING THUNDER BIG RIGS & SPORTSMAN SPRINT SHOOTOUT
The Rolling Thunder Big Rigs & the Sportsman Sprint Shootout is back for 2019!
Witness the full-size, over the road semi trucks racing around the high bank clay oval at Skagit Speedway!
The Sportsman Sprint Cars will be laying all on the line for the biggest payday of the season!
Adult : $16
Junior / Senior / Military : $12
10 & Under: FREE (weekiy show)
6 & Under: FREE (premuim show)
Family Pass : 2 Adults and up to 4 kids (age 7-15): $48
Kids (7-15) when accompanied by a paying adult: $7
Adult (18-61) • Junior (7-17) • Senior (62+) • Child (6 & Under)
Sportsman Sprint Cars

14 entries

Hornets

11 entries

Rolling Thunder Big Rigs
Full Event Information on MyRacePass
Sportsman Sprint Cars
Finish
Start
#
Competitor
Hometown
+/-
1
7O
Chase Goetz Snohomish, WA
Snohomish, WA
-
2
23
Steve Parker Sedro Woolley, WA
Sedro Woolley, WA
-
3
06F
Jayme Barnes Everett, WA
Everett, WA
-
4
14
Sean Johnson Snohomish, WA
Snohomish, WA
-
5
0
Ashleigh Johnson Ferndale, WA
Ferndale, WA
-
6
29
Eric Turner Lake Stevens, WA
Lake Stevens, WA
-
7
99
Malachi Gemmer Lakewood, WA
Lakewood, WA
-
8
06
John Tharp Jr Renton, WA
Renton, WA
-
9
33
Bill Rude Mount Vernon, WA
Mount Vernon, WA
-
10
2
Cory Swatzina Sedro Woolley, WA
Sedro Woolley, WA
-
11
73
Michael Bollinger Burlington, WA
Burlington, WA
-
12
54
Joe Lyon Arlington, WA
Arlington, WA
-
13
79K
Kelsey Carpenter Burlington, WA
Burlington, WA
-
14
21
Jesse Schlotfeldt Arlington, WA
Arlington, WA
-
Finish
Start
#
Competitor
Hometown
+/-
1
33
Bill Rude Mount Vernon, WA
Mount Vernon, WA
-
2
06F
Jayme Barnes Everett, WA
Everett, WA
-
3
23
Steve Parker Sedro Woolley, WA
Sedro Woolley, WA
-
4
2
Cory Swatzina Sedro Woolley, WA
Sedro Woolley, WA
-
5
21
Jesse Schlotfeldt Arlington, WA
Arlington, WA
-
6
0
Ashleigh Johnson Ferndale, WA
Ferndale, WA
-
7
14
Sean Johnson Snohomish, WA
Snohomish, WA
-
Finish
Start
#
Competitor
Hometown
+/-
1
73
Michael Bollinger Burlington, WA
Burlington, WA
-
2
54
Joe Lyon Arlington, WA
Arlington, WA
-
3
7O
Chase Goetz Snohomish, WA
Snohomish, WA
-
4
29
Eric Turner Lake Stevens, WA
Lake Stevens, WA
-
5
79K
Kelsey Carpenter Burlington, WA
Burlington, WA
-
6
99
Malachi Gemmer Lakewood, WA
Lakewood, WA
-
7
06
John Tharp Jr Renton, WA
Renton, WA
-
Finish
Start
#
Competitor
Hometown
Time
1
14
Sean Johnson Snohomish, WA
Snohomish, WA
2
29
Eric Turner Lake Stevens, WA
Lake Stevens, WA
3
23
Steve Parker Sedro Woolley, WA
Sedro Woolley, WA
4
7O
Chase Goetz Snohomish, WA
Snohomish, WA
5
06F
Jayme Barnes Everett, WA
Everett, WA
6
54
Joe Lyon Arlington, WA
Arlington, WA
7
33
Bill Rude Mount Vernon, WA
Mount Vernon, WA
8
73
Michael Bollinger Burlington, WA
Burlington, WA
9
2
Cory Swatzina Sedro Woolley, WA
Sedro Woolley, WA
10
79K
Kelsey Carpenter Burlington, WA
Burlington, WA
11
21
Jesse Schlotfeldt Arlington, WA
Arlington, WA
12
99
Malachi Gemmer Lakewood, WA
Lakewood, WA
13
0
Ashleigh Johnson Ferndale, WA
Ferndale, WA
14
06
John Tharp Jr Renton, WA
Renton, WA
Hornets
Finish
Start
#
Competitor
Hometown
+/-
1
2
TJ Campbell Sedro Woolley, WA
Sedro Woolley, WA
-
2
54
Vance Hibbard
-
3
77M
Clint Meins
-
4
17
Kyle Hanson Burlington, WA
Burlington, WA
-
5
68
Howard Vos
-
6
5
Rob Dozark
-
7
8
Nathan Merrill Burlington, WA
Burlington, WA
-
8
15
Colin Sims Burlington, WA
Burlington, WA
-
9
52
Mike Thomas Seattle, WA
Seattle, WA
-
10
49
Jon Edwards
-
11
22X
Brian Michelson
-