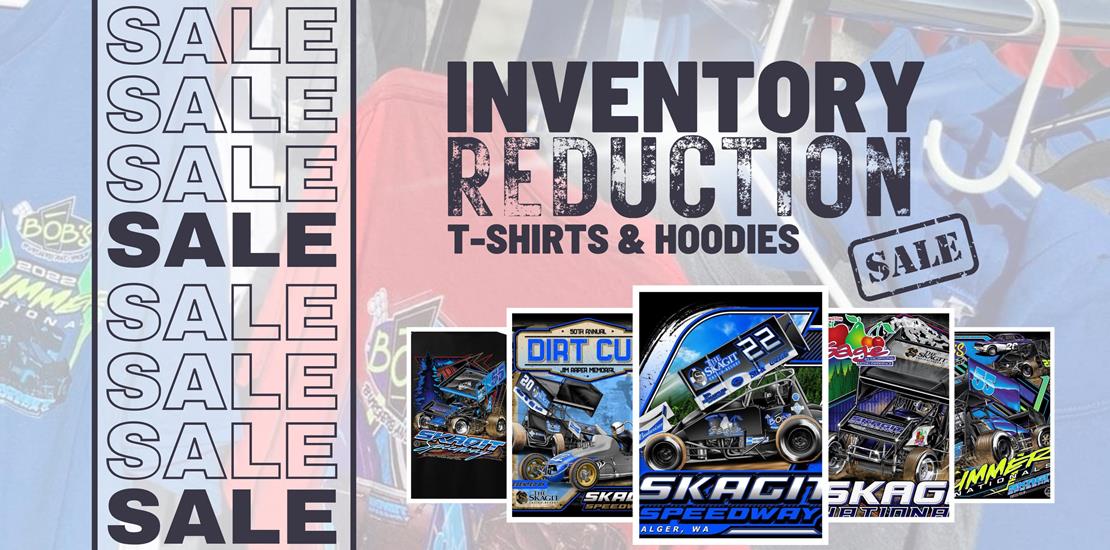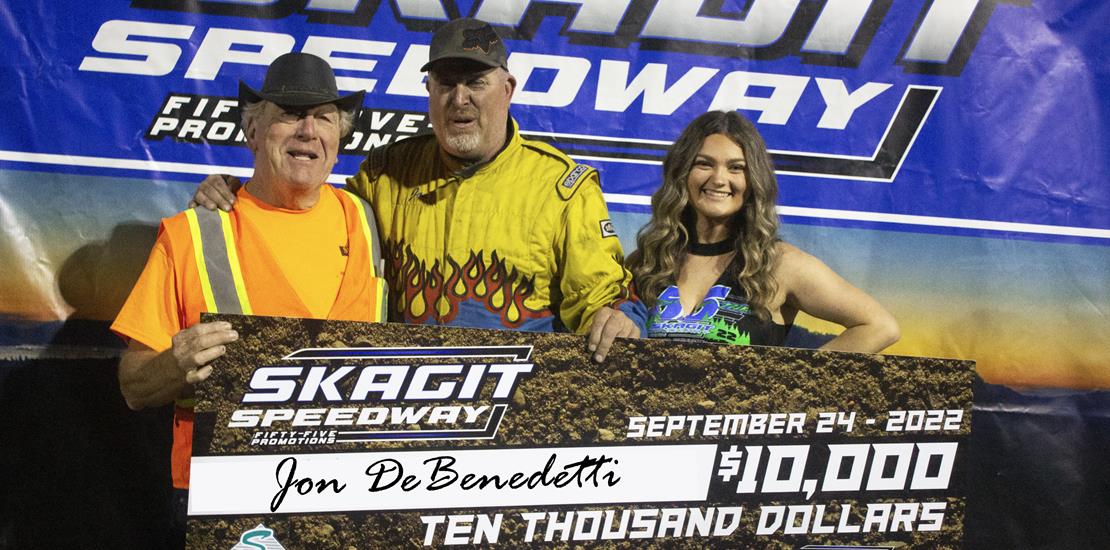 9/24/2022 -
Alger, WA -Jon Debenedetti survived 55 laps of racing at Skagit Speedway and walked away with $10,000 to show for his efforts on Saturday night. Skagi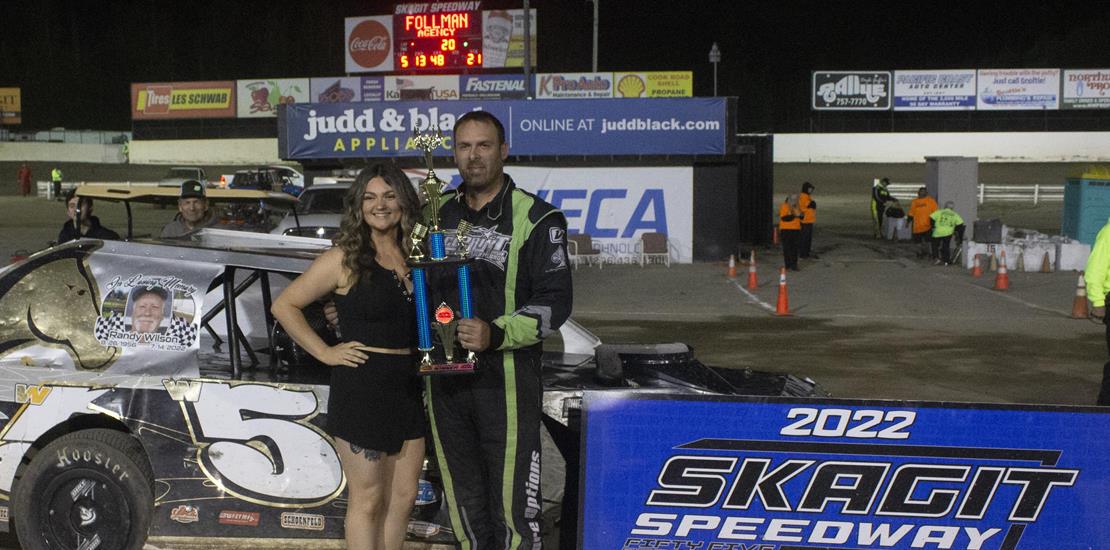 9/23/2022 -
Alger, WA - In the warmup race for the $10,000 to win Survive the 55 coming up on Saturday night, Jesse Williamson won the warmup feature at Skagit Sp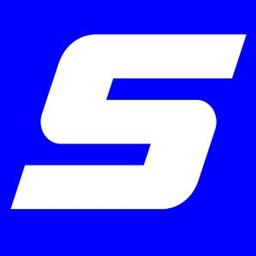 8/3/2019 - Skagit Speedway
Burlington, WA
Round #17 & NW Modified Challenge - Fastenal Night - Candy Scramble & Backpack Night
Grandstands Open at 5:30pm • Racing at 7:00pm
Join us for the first ever... Candy Scramble & Backpack night at Skagit Speedway, Saturday, August 3!
Kids 2-12 are invited to the front stretch of the race track after the heat races. Your favorite drivers will scatter 13,000 pieces of candy on the race track! Each candy bag will have a ticket for a chance to win 1 of 120 backpacks! Kids will be directed into one of two lines... 2-6 years old and 7-12 years old.
Come out and join us!!
Classes on the schedule - Sportsman Sprints, NW Modified Challenge, Outlaw Tuners and Dwarf Cars.
Saturday, August 3
Races start at 7pm
Adults $14
Jr. Sr. Mil $12
Kids 6 & under FREE
Family Pass $39
Adult (18-61): $14
Junior (11-17) / Senior (62+) / Military : $10
Child (10 & Under): FREE
Family Pass : 2 Adults and up to 4 kids (11-17): $39
Kids (11-15) when accompanied by a paying adult: $5
Sportsman Sprint Cars

16 entries

IMCA Modifieds

15 entries

Hornets

10 entries

AMCA Bandit/NW Dwarf Cars
Full Event Information on MyRacePass
Sportsman Sprint Cars
Finish
Start
#
Competitor
Hometown
+/-
1
14
Sean Johnson Snohomish, WA
Snohomish, WA
-
2
79K
Kelsey Carpenter Burlington, WA
Burlington, WA
-
3
23
Steve Parker Sedro Woolley, WA
Sedro Woolley, WA
-
4
22X
Trevor Cook Sedro Woolley, WA
Sedro Woolley, WA
-
5
2
Cory Swatzina Sedro Woolley, WA
Sedro Woolley, WA
-
6
29
Eric Turner Lake Stevens, WA
Lake Stevens, WA
-
7
0
Ashleigh Johnson Ferndale, WA
Ferndale, WA
-
8
33
Bill Rude Mount Vernon, WA
Mount Vernon, WA
-
9
99
Malachi Gemmer Lakewood, WA
Lakewood, WA
-
10
7O
Travis Jacobson Lake Stevens, WA
Lake Stevens, WA
-
11
3
Seth Askvig Sedro-woolley, WA
Sedro-woolley, WA
-
12
73
Michael Bollinger Burlington, WA
Burlington, WA
-
13
49
Paul Hopkins Brackendale, BC
Brackendale, BC
-
14
9J
Cody Ridge Snohomish, WA
Snohomish, WA
-
15
06
Jayme Barnes Everett, WA
Everett, WA
-
DQ
06F
John Tharp Jr Renton, WA
Renton, WA
-
Finish
Start
#
Competitor
Hometown
+/-
1
73
Michael Bollinger Burlington, WA
Burlington, WA
-
2
79K
Kelsey Carpenter Burlington, WA
Burlington, WA
-
3
2
Cory Swatzina Sedro Woolley, WA
Sedro Woolley, WA
-
4
29
Eric Turner Lake Stevens, WA
Lake Stevens, WA
-
5
33
Bill Rude Mount Vernon, WA
Mount Vernon, WA
-
6
0
Ashleigh Johnson Ferndale, WA
Ferndale, WA
-
7
49
Paul Hopkins Brackendale, BC
Brackendale, BC
-
8
7O
Travis Jacobson Lake Stevens, WA
Lake Stevens, WA
-
Finish
Start
#
Competitor
Hometown
+/-
1
22X
Trevor Cook Sedro Woolley, WA
Sedro Woolley, WA
-
2
06
Jayme Barnes Everett, WA
Everett, WA
-
3
14
Sean Johnson Snohomish, WA
Snohomish, WA
-
4
06F
John Tharp Jr Renton, WA
Renton, WA
-
5
23
Steve Parker Sedro Woolley, WA
Sedro Woolley, WA
-
6
9J
Cody Ridge Snohomish, WA
Snohomish, WA
-
7
99
Malachi Gemmer Lakewood, WA
Lakewood, WA
-
8
3
Seth Askvig Sedro-woolley, WA
Sedro-woolley, WA
-
Finish
Start
#
Competitor
Hometown
Time
1
7O
Travis Jacobson Lake Stevens, WA
Lake Stevens, WA
2
14
Sean Johnson Snohomish, WA
Snohomish, WA
3
79K
Kelsey Carpenter Burlington, WA
Burlington, WA
4
23
Steve Parker Sedro Woolley, WA
Sedro Woolley, WA
5
73
Michael Bollinger Burlington, WA
Burlington, WA
6
06
Jayme Barnes Everett, WA
Everett, WA
7
2
Cory Swatzina Sedro Woolley, WA
Sedro Woolley, WA
8
22X
Trevor Cook Sedro Woolley, WA
Sedro Woolley, WA
9
0
Ashleigh Johnson Ferndale, WA
Ferndale, WA
10
9J
Cody Ridge Snohomish, WA
Snohomish, WA
11
29
Eric Turner Lake Stevens, WA
Lake Stevens, WA
12
06F
John Tharp Jr Renton, WA
Renton, WA
13
33
Bill Rude Mount Vernon, WA
Mount Vernon, WA
14
99
Malachi Gemmer Lakewood, WA
Lakewood, WA
15
49
Paul Hopkins Brackendale, BC
Brackendale, BC
16
3
Seth Askvig Sedro-woolley, WA
Sedro-woolley, WA
IMCA Modifieds
Finish
Start
#
Competitor
Hometown
+/-
1
7K
Kevin Smith Clinton, UT
Clinton, UT
-
2
8W
Rick Smith Mt. Vernon, WA
Mt. Vernon, WA
-
3
M51
Craig Moore Seabeck, WA
Seabeck, WA
-
4
67S
Mike Steltz Snohomish, WA
Snohomish, WA
-
5
97
Tyson Blood Tumwater, WA
Tumwater, WA
-
6
4
Jeff Jansma Clear Lake, WA
Clear Lake, WA
-
7
28
Larry Buchanan Yakima, WA
Yakima, WA
-
8
22M
Melvin Decker
-
9
10XX
Dan Butenschoen Puyallup, WA
Puyallup, WA
-
10
51
Louis Nutter Sr Sedro Woolley, WA
Sedro Woolley, WA
-
11
151
Adam Holtrop Birdsview , WA
Birdsview , WA
-
12
25
Jeff Blanton Sedro Woolley, WA
Sedro Woolley, WA
-
13
72
Pat Merrit Yakima, WA
Yakima, WA
-
14
4D
Roger Drake
-
Finish
Start
#
Competitor
Hometown
+/-
1
8W
Rick Smith Mt. Vernon, WA
Mt. Vernon, WA
-
2
25
Jeff Blanton Sedro Woolley, WA
Sedro Woolley, WA
-
3
M51
Craig Moore Seabeck, WA
Seabeck, WA
-
4
67S
Mike Steltz Snohomish, WA
Snohomish, WA
-
5
97
Tyson Blood Tumwater, WA
Tumwater, WA
-
6
72
Pat Merrit Yakima, WA
Yakima, WA
-
7
28
Larry Buchanan Yakima, WA
Yakima, WA
-
Finish
Start
#
Competitor
Hometown
+/-
1
7K
Kevin Smith Clinton, UT
Clinton, UT
-
2
4D
Roger Drake
-
3
151
Adam Holtrop Birdsview , WA
Birdsview , WA
-
4
4
Jeff Jansma Clear Lake, WA
Clear Lake, WA
-
5
22M
Melvin Decker
-
6
51JR
Louis Nutter Jr Sedro Woolley, WA
Sedro Woolley, WA
-
7
10XX
Dan Butenschoen Puyallup, WA
Puyallup, WA
-